India is a land of diversity – so many cultures, traditions, races, ethnicities live together in one subcontinent. There are so much variety and uniqueness from Kashmir to Kanya-kumari, from Gujarat to Arunachal Pradesh. But one thing seems to be shared by all the regions, i.e., obsession with white skin. It appears that the colonial hangover is still not over in most of India. Be it for matrimonial purposes, job employments, or several other reasons, this obsession can be easily noticed.
If you go through the Matrimonial section of the newspapers, you won't find one single advertisement which doesn't reflect white skin preference. Also, in job advertisements, many companies explicitly state their white skin requirements. It has been observed that other vital skills and qualities are being compromised for this one thing.
Skin colour does not determine a person's qualities. Outer beauty is no guarantee of inner beauty. In this blind obsession, many Indians have made wrong choices both in personal and professional lives.
This white colour obsession can also be linked to the superiority of Brahmins in the Hindu caste system. In Hindu religious texts, a Brahmin is a handsome, fair, well-built, knowledgeable person. Thus, most of the Hindus believe that being white-skinned automatically makes someone a Brahmin or belonging to an upper/pure caste.
Also, British colonial masters ruled India for over 200 years. This obsession can be said to be emanating from it.  Even today, when Indians visit European countries, they become awestruck when they come across white-skinned people. Thus, they conclude white skin colour as an ideal or a superior skin colour.
Billion-Dollar Business
A report from Global Industry Analysts states that the skin-lightening industry will grow by 2020 into a $23 billion business. As per the 2009 AC Nielsen report, about $400 million worth of skin-whitening products were being consumed annually in India alone. The popularity of such products has only risen in the intervening years.
In the Indo-Pak subcontinent, a significant amount of this income is earned by Unilever's smash hit "Fair & Lovely" cream. The adverts for the cream follow a general format, where a dull, dark-skinned girl is unable to find a job or get hitched until she applies the cream and figures out how to whiten her skin.
Also, Emami's "Fair and Handsome" cream proposes to do wonders for Indian men, with famous film stars featuring in the brand's ads. One specific advertisement features famous Indian film star Shah Rukh Khan promoting the cream as a simple route to "becoming handsome". As indicated by a report published by India Times, Emami Ltd claimed to have had a 20 percent growth in sales in the first quarter of 2016.
In this era of liberalization, globalization, and privatization, foreign multi-national companies have been considerably successful in exploiting this particular obsession. Multinational giants tend to gain from this fair skin quest. They have been fooling people, and Indians are easy prey. T.V advertisements have become meaningless nowadays. They promise white skin in just one week.
All these advertisements are carefully designed to manipulate Indians and make profits out of their silly obsession. Various cosmetic companies have launched expensive beauty ranges which promise to turn a person 3 or 4 shades lighter. Beauty giants like Unilever and L'Oreal are cashing in on a global skin lightening and bleaching industry worth between $10 and $20 billion.
Indians are becoming fools because their foolish demand blinds them. These products are known to have a large chunk of chemicals inside them, which deteriorate the quality of the skin in the long run. Indians have become so blind that they do not care to verify the ingredients that go into making such products. They just read the label-"gori tavacha ek hafte main" (fair skin challenge in only one week) and blindly trust these companies. The sad part is that these companies have been encashing this obsession, for now, quite an extended period, but Indians are still not ready to understand.
Bollywood-film industry of India is head over heels with white skin, especially when it comes to females. The kind of message movies and songs propagate today influences and strengthens this obsession more. Various influential stars and models propagate these beauty products for money, which has a lot of influence, especially on young minds. Indian actress Nandita Das has often talked about how she was slotted into roles of lower-caste characters due to her dark skin. Her experiences made her a spokesperson for the "Dark is Beautiful" campaign against racism in the Indian media.
Data has revealed how these daily advertisements have made Indians uncomfortable in their skin. People who are a part of the blind race to become fairer and fairer only tell how insecure they are about their appearance. This has lowered their self- confidence and self-esteem.
The Dark Side to Lighter Skin
The use of injections, pills, and expensive creams may help the affluents to lighten their dark skin, but others either compromise their safety or succumb to other measures.
There have been instances where people have used soap meant for whitening clothes to whiten their skin, as was the case with Jamaican artist Vybz Kartel.
Kenya-based Diana Opoti, the founder of fashion consultancy Diana Opoti PR, explains how prevalent unregulated products are on the African continent. These creams weren't certified, but people still used them. There are cases where women even use Jik bleach, a brand that's supposed to clean floors, drains, and clothes, on their face.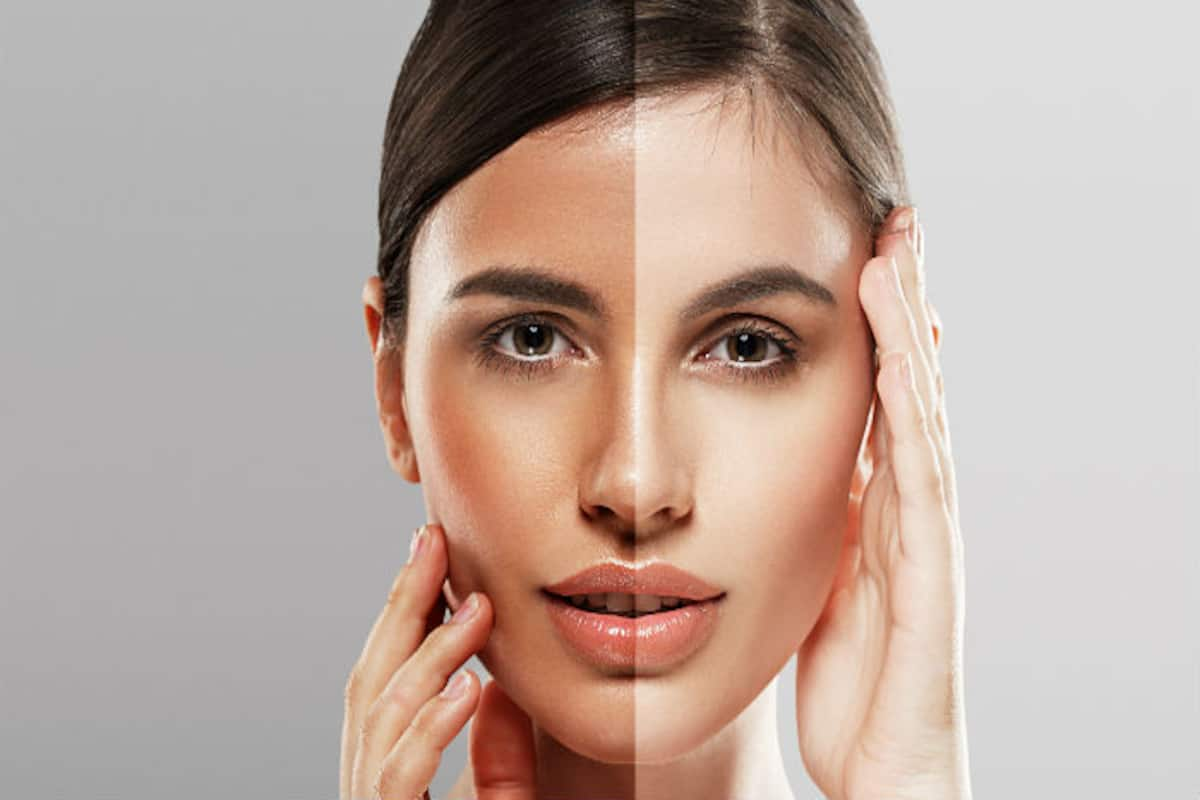 Dr. Pranav Pancholi, a skin dermatologist at Avane Dermatology Clinic in Kenya, has regularly encountered women who have been scarred and burnt for life because of unreasonable and excessive use of substandard fairness creams. "These creams may contain unsafe amounts of steroids, mercury, or hydroquinone. A restricted dose of these medications can successfully help the skin, but given that many of these black-market creams aren't medically certified, they result in burnt skin."
This particular obsession has also had other uninvited consequences. Discrimination on the racial lines has become more profound in India. I want to mention an incident here. I recall my undergraduate college days, where we used to have international students in our hostel. During a discussion in the class, two girls from Zimbabwe and Germany respectively were asked to share their experience so far in India. The German girl explicitly stated that Indians are obsessed with white skin because she has been receiving a little too much respect or help or favors in India. On the other hand, the African girl wasn't much satisfied. Indians look at Africans differently than they look at Europeans.
In rural India, when a dark-skinned girl child is born, many people come forward to say-'ek toh ladki upar se kali, ab kya hoga iski zindagi ka' (A girl and that too, dark-skinned, god-knows-what life holds for her). Newborn babies with dark skin are often massaged daily with herbal mixtures to make their skin fair. The all-pervasive, societal pressure can seem inescapable. This clearly explains how Indians base every other inherent quality or talent on someone's skin colour. They sound as if no dark-skinned person ever did good in life. 
There are examples from every corner of the world where women especially have gone to the extent of torturing themselves to enter into this beauty bar set by the world of which being fair-skinned is an essential criterion. Girls are reported to have spent way too much on these cosmetic products, skin-bleaching techniques, chemical peel-offs, skin-peel offs, and in some cases, skin surgery also. Many of these experiments have ruined their lives and ended with disastrous consequences.
In many parts of India, mothers themselves start telling girls that they are worth nothing if they are not fair-skinned. In many states in India, hefty dowry is demanded to compensate for the dark-skin colour of the girl.
Beauty regimes that praise light skin are ancient and varied. In Pakistan and India, young ladies are advised to "drink not so much tea, but rather more milk" for whiter skin, and a healthy brown tan is studiously avoided. An old African maxim cautions that fair-skinned ladies are more expensive to marry. In Japan, an old proverb says, "white skin covers the seven imperfections", inferring that her fair skin can compensate all the errs, even if a woman's features are not attractive.
Thus, frames of mind toward ancient beauty standards that have been exacerbated by hundreds of years of colonialism and a worldwide fashion and beauty industry promoting Euro-centric beauty standards are slow to change. It will take a lot more battles and developments for the obsession around lighter skin to diminish.
Please share your opinion in the comments section below.