Shawn Mendes & Camila Cabello are not shying away to tell the world that all their thoughts look like each other. The "I Know What You Did Last Summer" singers & songwriters took over the Internet upside down when the pictures of the two roaming on the streets & then in Greece surfaced on the Internet. Real-life best friends to real-life lovers; Shawn Mendes & Camila Cabello are very much in love and there is nothing that is holding them back!!
Over the past couple of months, fans & publicists speculated that best friends converted into lovers are doing this for publicity of their new song "Señorita" but it turns out they are really in love & happy. Recently, Shawn Mendes took down the video of the two kissings like fishes, which was applauded by the fans because it was hilarious, added more to the speculations of their relationship being a made up. Relax guys; the video is still up on his Instagram.
Camila Cabello has responded to the speculations that she & Shawn have broken up by posting a picture on her Instagram in a very humorous way. She posted a screenshot of a picture that said, "Proof Shawn & Camila have broken up" with a caption "Well when the F—were you going to tell me @shawnmendes".  On the other hand, Shawn also posted a picture of him & Camila kissing his cheek as he wraps his arm around her.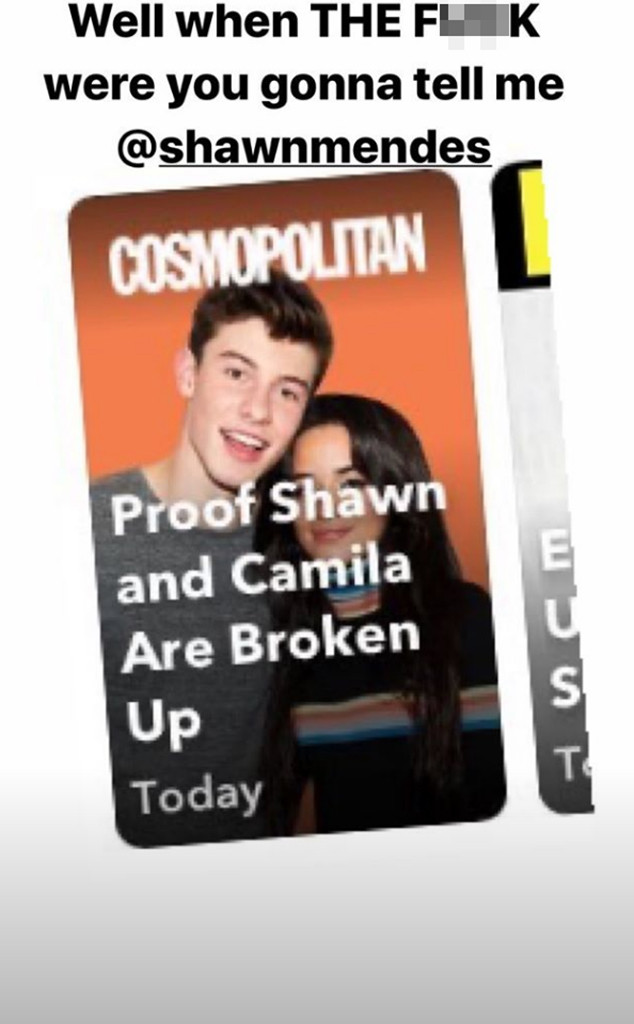 The couple met for the first time at Austin Mahone's 2014 "Live on Tour" concert where the pair was supposed to perform as supporting acts for Austin. Camila Cabello was a part of Fifth Harmony back then & Shawn Mendes was famous for his vines. Soon after they became friends and in 2015, the duo released their single "I know what you did last summer". Their chemistry was undeniable hot & they were asked to what's been cooking up? To which Shawn joked, "Every time I try to make a move, she just swears me off, It's never going to happen". To which Camila responded, "He friend zones me! He called me 'kid'! Who knew that they would be a thing?
In 2017, the duo got together and posted a cover of Ed Sheeran's 'Kiss Me" which notched up an incredible 3.5M views in a year. They have always been supportive of each other & there is nothing denying that fact. They usually take up their social media accounts to show how much they admire each other's work & how much it makes them happy to see the other one get the success they deserve.
They started writing songs together in 2018 and boom on 21st June 2019, 'Señorita' drops, and everyone's wondering WHAT JUST HAPPENED? The video is not just a simple plain catchy song, it shows how incredibly talented the two singers are in the field of their craft. There was a lot of chemistry & intensity, which clearly showed. Camila also shared BTS from the filming of the video which clearly showed how comfortable these two are with each other's company. 
Soon after, the video dropped, there were pictures of the IT couple that surfaced on Twitter with captions like "SHAWN & CAMILA OUT AND ABOUT LOOKING ALL CUTE & HAPPY!!" They genuinely looked happy. Well since Twitter is a dark place, fans & shippers started to speculate stuff and just when everyone was getting suspicious, the couple made it official. No, not literally. There was a video that surfaced on Twitter, shot by a fan, which saw Shawn & Camila making out which was adorable.
The two have also received some backlash for their relationship as some assumed or labeled their relationship as a publicity stunt or fake. The haters started to comment on things like, they kiss so awkwardly, why is she not sure about this, the kiss makes them uncomfortable, is this real, or they knew someone was filming them? etc. To which the couple has responded by saying, "It's definitely real''.
Camila Cabello, who is all set for her new album "Romance" to release in January revealed that the two have gotten serious. She said, 'I really really love him a lot'. She went onto explain how this romance happened;' It was so fun [Señorita] we've been friends for a really long time … there was a period where we didn't hang out as much just 'cause we were both busy. And this song was really fun because we got to just hang out again as we did on the song we did before, 'I Know What You Did Last Summer,' which is when we got really close".
Talking about her new album, which has songs inspired by Shawn Mendes; Camila said, "Every song is its own story. It was inspired by, I was in my first serious relationship at the beginning of this album. That's what inspired Romance and it is about falling in love." Camila was previously dating relationship guru Matthew Hussey but they couple split up in June.
Shawn Mendes who is on his tour has also opened up about his experience of 'fighting' for his lady love. In a recent Q&A live-stream session, Shawn admitted that he had loved Camila before they started dating. "Well, if I told you the whole story of Camila, it would take a long time. I would say that you have to fight for someone you really love and, if you really truly love them, then you'll get them."
He added, "It just takes time but make sure you really love him or her." Camila Cabello is often seen on tour supporting her boyfriend and sometimes surprising the fans with the duo's performance too. They performed together on their hit single "Señorita" in Canada. They really love each other!!