Nowadays, eating healthy is considered a complicated task. Apparently, a tedious one with a lot of efforts, time, and restrictions. Well, this is not the actual case though.
This practice only requires a bit of small & easy steps. These tips, if followed daily can form an unbeatable healthy way of living.
1. Choose the correct food – Following a healthy diet is not at all complicated. A basic way of doing so is refraining from packaged and processed foods. In a lot of countries including India, canned foods are a trend. This is because they are so easily available, convenient, save a lot of time, and require little preparation. But canned food stuffs are big 'no-no' for maintaining a healthy diet plan. Instead, look for fresher ingredients wherever possible. A simple example would be to replace canned fruit juices with real ones.
2. Meal Prep – Start preparing your own meals. When one cooks his own food, the person is cautious about what is being eaten, what is the calorie intake, which additives are to be avoided and which foods need to be excluded as a whole. When one prepares the meal, half of the consciousness comes in place. Also, one can always experiment in terms of color to make the dish look interesting and delicious. Who doesn't love a sumptuous meal anyway?
3. Be Aware – A lot of times consumers do not even know what are they consuming daily. The labels and warnings mentioned on the product are seldom given any importance. Many times, the nutritional benefits claimed by these products are not even true. This factor hugely impacts the health. Therefore, read the food labels because awareness and knowing about our intake is a must and should be taken seriously.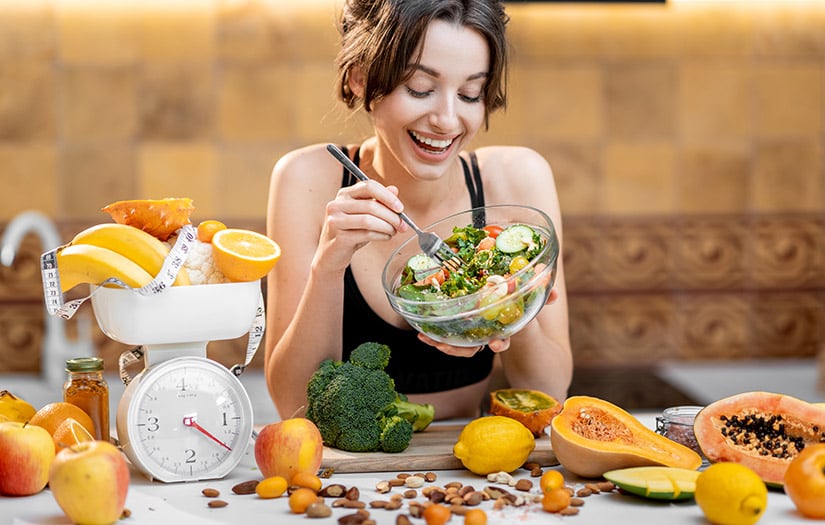 4. Why Water? – No healthy regimen is complete without water. Not only a basic necessity, it is vital. It is a boon for it purifies our system, flushes out toxins, and hydrates the body. Our body needs to be hydrated as dehydration causes lethargy and tiredness keeping our energy levels low. And water intake is the best way to do this.
5. Feel the change – It is very tough to change our eating habits. Who doesn't enjoy eating junk, eating out, eating whatever & whenever one wants? The real struggle that lies is feeling the change. Feeling the positivity that healthy-eating brings is often overshadowed by the notion that we are restricting ourselves and putting in too much efforts. Don't feel negative about leaving the foods one used to love eating. Instead, look for the real change and feel how your body says thank you when it sips some green tea, or coconut water or a detox drink instead of a Cola.
The whole concept of healthy eating is all about balance and requires the art of replacing the usual food with healthier alternatives. So, the bottom-line is that 'Healthy eating' is nothing but a matter of choices. The healthier the choices, the healthier you. One just needs to be consistent and embrace the change.