Cyril Radcliffe, the British lawyer who drew the dividing line between Indo-Pak, gave the Shankargarh tehsil of Gurdaspur to Pakistan, which is where the gurdwara is.

Since independence, till now Indian travelers used to go to Kartarpur via Wagah border, before 2000 their number was very less.

In the 90s, Pakistan started rebuilding the gurdwara, after which the number of devotees started increasing.
5000 Sikh devotees will be benefited daily by the corridor built to connect Dera Baba Nanak located in Punjab with Darbar Sahib Kartarpur in Pakistan. They will be able to visit Darbar Sahib without needing Visa. The story of its going to Pakistan is also interesting. Swarnim Times spoke to Gurinder Singh Bajwa, general secretary of Kartarpur Ravi Darshan Abhilakhi Sanstha and Tridivesh Singh Maini, a knowledgeable and author of Indo-Pakistan affairs, to know the history of the gurdwara.
Three tehsils of Gurdaspur remained with India, Pakistan got Shankargarh tehsil with Kartarpur
Maini told that Kartarpur Gurdwara used to come in Gurdaspur district of Punjab. Before independence, there were four tehsils in Gurdaspur. These included Gurdaspur, Batala, Pathankot and Shankargarh. This is a gurudwara in Shankargarh tehsil. They say that the British lawyer Cyril Radcliffe was responsible for drawing the dividing line between Indo-Pak and gave it to Shankargarh Tehsil Pakistan, while the remaining three Tehsils became part of India.
The natural flow of the river Ravi became the border
According to the book 'Freedom at Midnight' by Larry Collins and Dominique Lapierre, Radcliffe had less than 2 months to draw the Indo-Pak dividing line and had no knowledge of the geographical location of India. Therefore, while drawing the dividing line, they made the natural flow of the Ravi river as a border and gave one side to Pakistan and part of other side of the river Ravi to India. Because, Kartarpur Gurdwara was on the other side of the Ravi river, Pakistan got this part.
Sikhs had started from Kartarpur itself, the message of sharing food was also given from here
According to Maini – the first Sikh Guru Nanak Dev Ji came to Kartarpur in 1522 and spent the last 17–18 years of his life here. Nanak sahib did farming here. The concept of Langar also started from here. Kartarpur is the place where Nanak ji took samadhi. Kartarpur is very important in this regard.

Gurinder Singh Bajwa says, Sikhism started from this gurudwara. Guru Nanak ji left his Jyoti Chaula here. Guru Nanak also gave the message of 'Naam chant, kirt karo aur vand chhako' (chant the name, work hard and eat divided). At this place, he also handed over the Guru Gaddi to Bhai lehna, who is known as Angad Dev, the second Guru of the Sikhs.
Gurdwara building was changing to ruins, people used to tie cattle here
Bajwa says, this gurdwara suffered a lot in the 1965 and 71 wars. By the 90s, its building had deteriorated. People used to tie cattle here. People had forgotten its history. Those who knew its importance from India, only a few people used to go there. They also had to go through the Wagah border. Because on the border of Gurudaspur there used to be a boundary and movement was not allowed. After 1998, the Government of Pakistan paid attention to the gurudwara and got it rebuilt. Work went on for years. Then people started coming here again.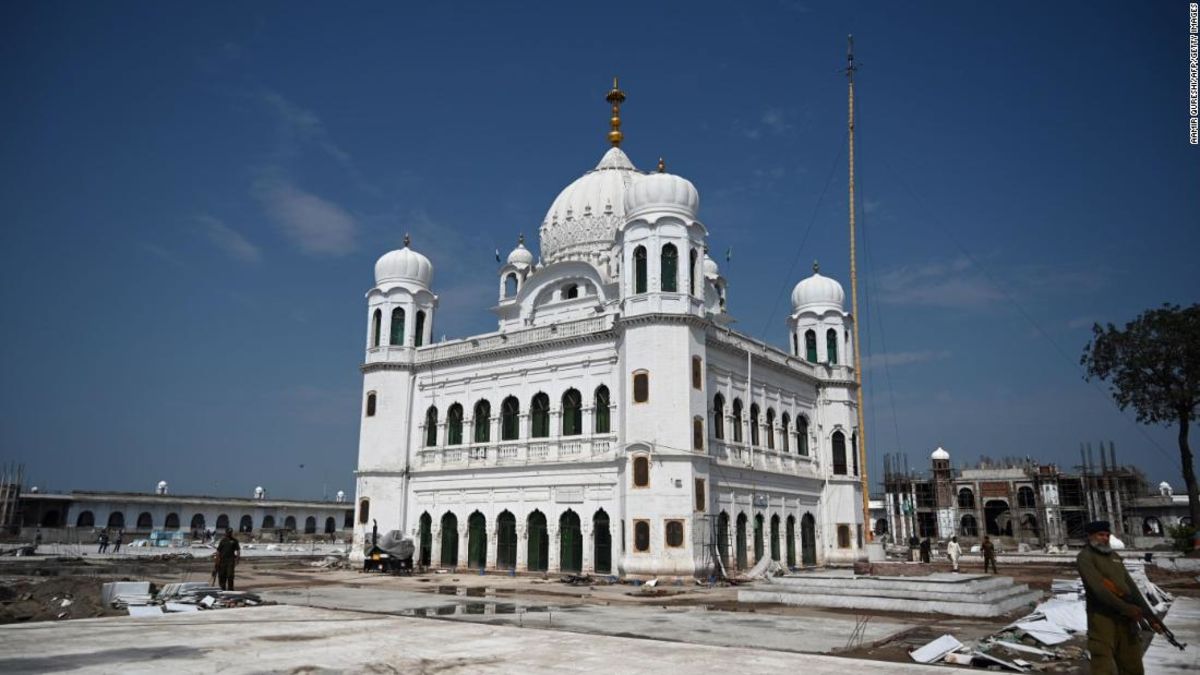 Demand for Kartarpur Corridor intensified since 2001
In November 2000, the government of Pakistan in Lahore on Guru Nanak Sahib's Guruparva said for the first time that it was ready to work on a corridor for a Sikh devotee of India, says Gurinder. After this announcement, the Sikh committees showed momentum. Along with the Kartarpur Ravi Darshan Abhilakhi institution, Sikhs living abroad also demanded the governments of India and Pakistan to build this corridor at the earliest. After 17-18 years of efforts, the governments of the two countries agreed on it last year. However, 4-5 years ago, Pakistan had expressed its intention that they would open the Kartarpur Corridor on the 550th Prakash Parv of Guru Nanak.
In 2005, Kartarpur Sahib was included in the batch of Sikhs visiting Gurdwara in Pakistan for the first time.
Gurinder says that till 2004, the group of pilgrims who went to Pakistan on behalf of the Shiromani Gurdwara Prabandhak Committee did not have the name of Gurdwara Kartarpur Sahib. This group used to visit Gurudwara Panja Sahib, Nankana Sahib, Dera Sacha Sauda (Sheikhupura). In 2005, Kartarpur was included in this list for the first time. Since then, the number of Indian travelers going to Kartarpur started increasing further.
The corridor would have opened in 2008 if there was no 26/11 terrorist attack
Gurinder also says that in 2006, Prime Minister Manmohan Singh assured to pursue the matter. In 2008, then Foreign Minister Pranab Mukherjee came to Dera Sahab Nanak to explore the possibility of corridor. Had there not been a 26/11 terrorist attack in Mumbai, work would probably have started for this corridor in 2008 itself.
Before 2000: Even tried to include Kartarpur in India and sometimes talk of starting a corridor
After independence, the Akali Dal had demanded the inclusion of Kartarpur Gurdwara in India in 1948. This demand continued till 1959, but the then Punjab government rejected this demand. Then in 1969, the then Prime Minister Indira Gandhi had promised to exchange land for the inclusion of Kartarpur in India on the 500th birth anniversary of Guru Nanak Dev. That is, Kartarpur should be included in India and in return, Pakistan should be given that much other land. But even this did not happen at that time.
In 1998, there was a discussion in the Atal Bihari Vajpayee government to build the Kartarpur Corridor. In 1999, 'Dosti Bus Service' was started from Delhi to Lahore under the Vajpayee government. Vajpayee himself arrived in Lahore in this bus and discussed with the then Pakistani Prime Minister Nawaz Sharif to build the Kartarpur Corridor. But immediately after this, the matter could not proceed due to the Kargil War.