Top 10 Bollywood Science Fiction movies
Due to the complexity of the subject, science fiction may be a challenging genre to work with, but when done well, it can provide tales that have the potential to stay in our memories for a lifetime.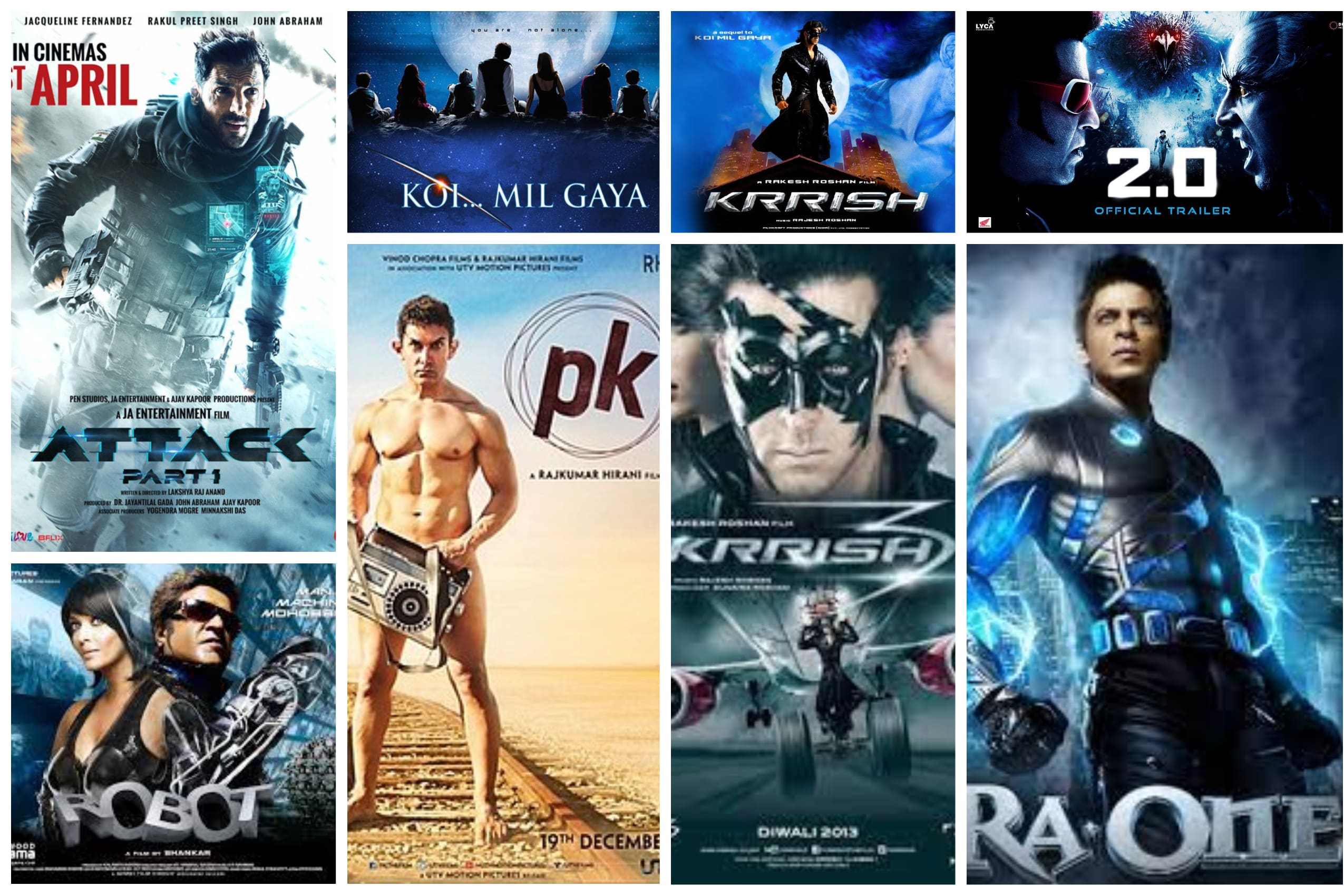 Hollywood's specialty has always been making science fiction movies. Other film industries have found it challenging to live up to the high standards set by Hollywood science fiction films. But over the past ten years, the Indian film industry has caught up and produced several excellent science fiction films. The sci-fi genre is the hardest of all the others since it requires the introduction of technology that is either in development or has never been used before. The difficulty is making the sci-fi movie seem authentic and astounding as possible.
Fortunately, the Indian film industry has explored this genre and occasionally succeeded in engaging the audience that enjoys sci-fi. Indian cinema gave it a shot and produced some fascinating and enjoyable movies. As a result, today we'll look at a few science fiction films that, while they might not be the first to come to mind when the genre is discussed, are unquestionably the ones that opened the door for other directors to try their hand at science fiction.`
PK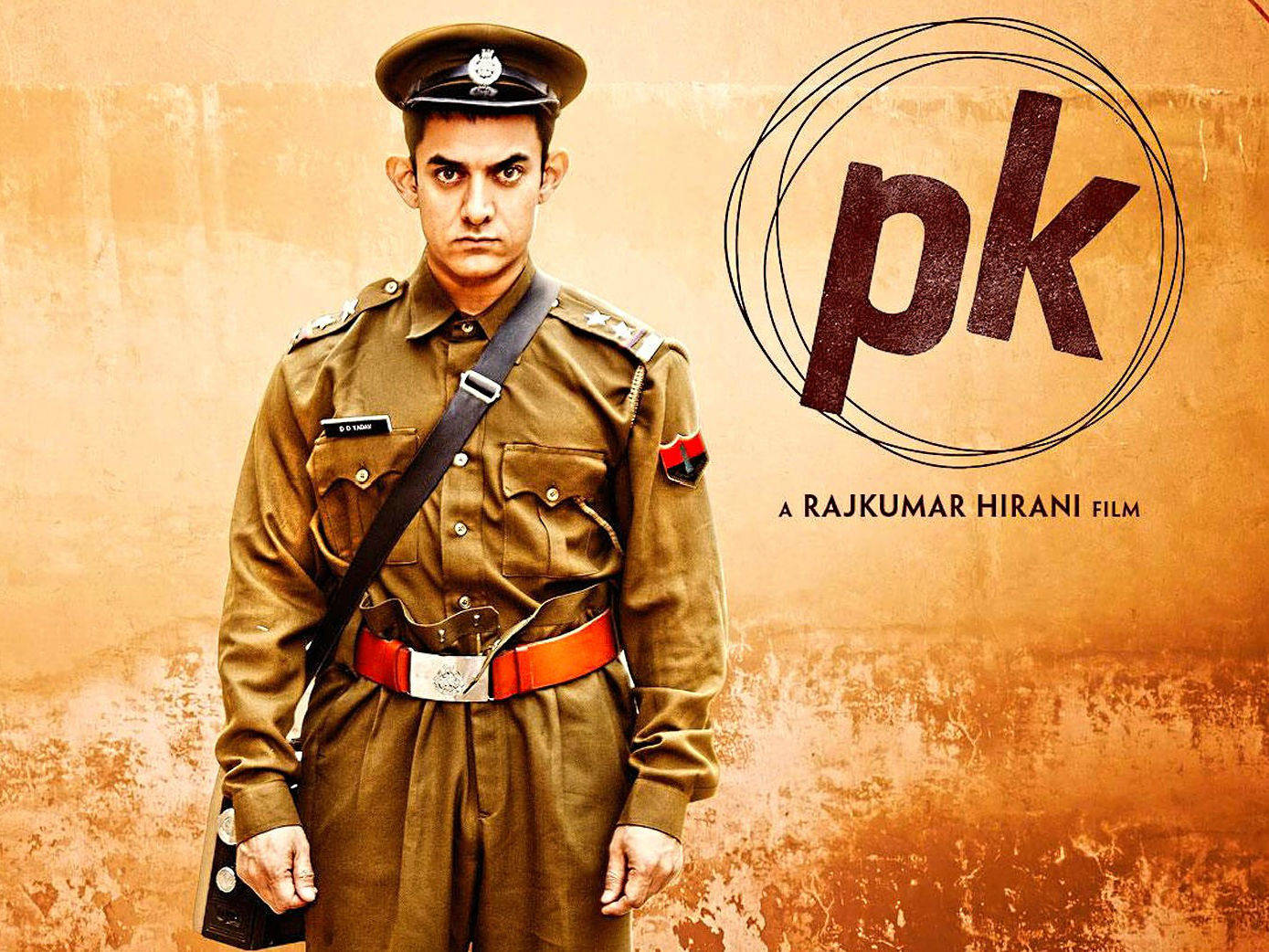 The top film on the list and the sixth-highest-grossing Indian movie internationally is PK, directed by Rajkumar Hirani. This 2014 popular movie discusses people who exploit religion for financial gain; it tells a tale similar to Umesh Shukla's OMG: Oh My God, but PK adds humor and a twist (and an alien).

Unclothed save for a necklace remote control that can bring up his UFO, an alien visitor arrives in the Rajasthani desert. A thief immediately takes this and flees. While battling for the final concert ticket, Sarfaraz, a Pakistani kid, meets and steals Jaggu Sahni, a student in Bruges. Despite the animosity between their respective countries, they come to love one another. When they inform Jaggu's father of the news by phone, he is upset and hurries to consult his guru Maharajah Tapasavi, who foretells that Sarfaraz will betray her. They intend to wed right away, but as Jaggu arrives for the service, Sarfaraz delivers a note stating that their union cannot be. Six months later, Jaggu is employed as a presenter at a New Delhi television station, but she is dissatisfied with the mundane tales she is required to do. After coming upon the extraterrestrial visitor and his peculiar habits, she grows attracted. She releases him from jail and gives him a home, initially doubting his strange account of how he got there and how he struggled to adapt to the quirks of Earth's culture and language while looking for his remote control. After being assured that God would assist him in locating his remote control and being left unsatisfied when God failed to do so regardless of the type of religion he tried, P.K., as he is nicknamed, reserves his greatest ire for religion. He picks up the concept of a Wrong Call from Jaggu and begins criticizing Tapasavi and other preachers for making false claims to be speaking for God. When Jaggu receives P.K. He launches a nationwide campaign against fraudulent preachers' lives on the radio.
2. Robot
Robot, a 2010 film directed by Shankar, elevated the science fiction subgenre in India. The beautiful scenery and cutting-edge technology in this multilingual film made it stand out even though the plot was an adaptation of a Kannada film. The movie depicts the tale of a scientist who creates an android with emotional expression. The formerly amazing Android turns into a threat to human society when he falls in love with the scientist's girlfriend. The rest of the plot depends on whether the scientist can stop it.

The high-caliber special effects are Robot's strongest suit. The Stan Winston Studio, which is said to have produced the animatronics for movies like Jurassic Park and Avatar, has created all of Rajnikanth's Spiderman, Batman, and superhero shenanigans with exquisite elan. And Yuen Woo Ping, the Hong Kong-based action director who designed the adrenaline-pumping stunts of classics like Kill Bill and Matrix, choreographed every one of the stunts. Nearly 40% of the film's enormous budget (Rs 160 crores) was spent on special effects, which ultimately seem to have been a good investment. Rajnikanth's ability to run horizontally on a moving train, scale flaming buildings like Spider-Man, and transform into enormous monsters manages to shock and awe the audience who is just looking to have a great time.
3. Ra.One
Hindi cinema with a passion for high-tech, "Ra. One," a sci-fi superhero thriller, is the most expensive Bollywood film ever made. It is a kind of entertainment machine that is ready to wow.
Counting the films that "Ra. One" takes inspiration from can be a lot of fun (or a little tedious): "Tron," "The Terminator," "The Matrix," Jackie Chan pictures, and on and on. It is a Bollywood epic with a voracious appetite and, of course, music and dances, so it can't be confused with anything else. (The club-friendly, catchy song "Chummak Challo," featuring Akon, is already popular.)
"Ra. One" is conventional, if a little undercooked, Hindi movie conflict between good and evil, despite its pricey digital effects and virtual reality feints. After all, the antagonist goes by the name Ra. One (for Random Access Version 1.0), which sounds like the 10-headed demon from the Ramayana and can be pronounced Raavan. And the protagonist G.One is also the word "Jeevan," which means "life." The film doesn't generally disappoint, even if the storytelling does (surprise!). It depends on the action, special effects, and Bollywood's secret weapon, star power, to win the audience over. This is Mr. Khan's film, and once he gets rid of Shekhar's unkempt hair, he shines as the robotic action hero with a deadpan attitude, suave dancing routines, and digital snot.
4. Koi Mil Gaya
A mentally disabled individual meets a friendly alien in the Bollywood science fiction movie Koi Mil Gaya, which was released in 2003. Hrithik Roshan, Rekha, and Preity Zinta star in the Rakesh Roshan-directed movie. The movie is reported to have been based on Satyajit Ray's 1967 sci-fi picture The Alien. This critically praised film won numerous national accolades, including Best Movie. Definitely a good movie to see on Children's Day! It contains all the elements necessary for a children's film, including comedy, humor, entertainment, connection, etc.
Scientist Sanjay Susra Mehra (Rakesh Roshan), a Sindhi Canadian, builds an alien-contact computer at the start of the film. In an attempt to entice extraterrestrial life, he invents numerous versions of the sound "Om." One day he finally gets a reply and rushes to the space research center to tell the experts, only to be laughed at. He returns home humiliated with his expectant wife, Sonia (Rekha). On the way, he observes an extraterrestrial spaceship in the area, which causes a collision because of the misunderstanding.
Sanjay kills himself on the spot after throwing Sonia out of the car. Sonia makes it through and returns to India, but the unborn child is brain-damaged. Rohit, a baby boy born to Sonia, has severe mental impairments. Hrithik Roshan's character Rohit develops into a young guy with a dim intellect and an immature disposition. But he has a kind heart and several great young buddies who he spends much of his time with. Nisha (Preity Zinta) enters and is quickly made friends with Rohit and his pals. Nisha soon learns about Rohit's mental impairment from Sonia and is moved by his plight.
Nisha and Rohit get along well and become friends. They unintentionally summon the aliens when they discover the old Sanjay computer. One alien is returned after the aliens visit the city. The extraterrestrial is found by Rohit, who hides him in his residence. The new extraterrestrial is discovered by Nisha and Rohit's friends, who introduce him as "Jadoo." Jadoo uses his powers to cure Rohit of his mental illness, making Rohit into a typical adult. The attempts to humiliate Rohit by Raj (Nisha's suitor) and his friends are many, but thanks to Jadoo, Rohit can handle every challenge with his "new" mental capacity.
As Rohit and Nisha become closer, he asks Nisha to marry him, and she accepts with little hesitation. The government learns about the alien who was left behind in the meantime. They focus their search on Jadoo because Rohit is watching out for her. He uses Sanjay's Om computer to assist Jadoo in returning to his spacecraft. Jadoo runs away, but Rohit once more develops mental impairment. Rohit, however, has the unique skills that Jadoo bestowed upon him restored. With Rohit and Nisha reconciling, the film comes to a happy conclusion.
5. Mr. India
Mr. India, regarded as the first successful science fiction movie in the Hindi cinema industry, has gained cult status over time. The movie tells the tale of Arun, a man who adopts orphan children and takes care of them by providing housing, food, and education. He discovers a device made by his father that, when used, renders the wearer invisible. As Mr. India, Arun utilizes the technology to battle crime until Mogambo captures him and the children. Mr. India is on our list of the All-Time Best Movies about Invisibility, whether or not he manages to overcome Mogambo's army and save himself and the kids.

The antagonist Mogambo is perhaps most known for the science fiction movie Mr. India. Shekhar Kapur and Boney Kapoor's 1987 superhero movie Mr. India is regarded as a cult masterpiece. Anil Kapoor played the parts of Arun Verma and Mr. India, Sridevi played Seema Sohni, and Amrish Puri played Mogambo. Sridevi's performance in the movie as Miss Hawai'i and Amrish Puri's line, "Mogambo khush hua," continue to be remembered today. The movie is among the Top 25 Must-See Bollywood Films of All Time and was warmly received by the general public. The appeal of this highly successful movie is found in the skillful blending of comedy, romance, and science fiction by Shekhar Kapoor. The combination is so alluring that seeing the movie more than once is tempting. A movie like "Mr. India" could have been completely ruined by melodrama by a less talented director. Many of the scenes are handled with ease by Kapoor because of his competent direction.
6. Shree
Bollywood still underutilizes the science fiction genre, mostly due to a lack of talent rather than a lack of viewers. Any movie that can handle the genre decently and effectively in such a situation deserves praise. Despite having a low production value and star power, Shree at least has a high concept level.

Shree (Hussain Kuwajerwala), a middle-class typical man attempting to marry his love Sonu in Mumbai, is the protagonist of the story (Anjali Patil). One day, a businessman offers him a large sum of money in exchange for his participation in an experiment for 12 hours. Shree is seduced by the money and agrees to the experiment without knowing what will happen or how it will turn up. He discovers that he is wanted by the police for many murders when he awakens from the experiment.

Making the fictional component of a science fiction story appear credible is crucial. And to some extent, and on its terms, this movie succeeds in doing so. It would be a huge spoiler to reveal the sci-fi aspect of this film, but happily, it doesn't require complicated logistics or high-tech special effects. Therefore, even within the constraints of its tiny budget, Shree has nothing to lose or give up. In reality, the sci-fi aspect is a pretext to begin a suspenseful crime thriller in which the protagonist must establish his innocence in the face of criminal allegations. Rajesh Bachchan, a first-time writer, and the director are successful in fusing these two genres and creating a compelling story. The movie features moments that are reminiscent of Hollywood science fiction like Groundhog Day and Source Code, but Shree isn't a straight-up replica and has its plot.

Beyond the plot, the movie's technical quality might use some work. Both the music and the filmmaking are extremely cheesy. The direction is also lacking in slickness and delicacy at other places. The movie then uses some purposefully eccentric characters, such as the villain's sidekick, who speaks chaste Hindi for no apparent reason and comes out as accidentally funny. Hussain Kuwajerwala portrays his character pretty well in his first appearance in a major motion picture. However, Anjali Patil, who plays the film's most disorganized character, is too loud, shrill, and annoying. Others provide appropriate assistance.
7. Krrish
Making a movie involves a lot of steps, especially for science fiction films. Many elements go into a movie, yet many people just focus on the action parts and the cool editing techniques. The emotional connection to the characters, the traits of the mutants, and, if the special effects are done well, the usage of romance in Krrish 3 can be considered as a traditional Indian musical. The main character Krishna (Hrithik Roshan), who is also the superhero Krrish, and his wife Priya (Priyanka Chopra), learn that they are having a child at the beginning of the story. His father, Rohit (also portrayed by Hrithik Roshan), has almost perfected a technology that can return the dead to life. Rohit gained extraordinary abilities from an alien encounter in the first movie. To force everyone to purchase his remedy, the villain Kaal (Vivek Oberoi), who possesses telepathic abilities and specializes in creating human-animal mutants, poisons everyone with a virus he invented. He will receive millions in profit in exchange, rising to the position of world supremacy. In this movie, love isn't just employed romantically. Most films have a general theme of love, which is particularly evident in Krrish 3. This film follows the trend of romantic musicals that characterize the majority of Indian films. Many films have a heavy focus on love, which advances the story. The love story of the main character was explored in the first film of the trilogy.
8. Mr. X in Bombay
A 1964 Indian science fiction romantic comedy film titled Mr. X in Bombay, directed by Pradyuman Bhardwaj, starred Kishore Kumar, Kumkum, and Madan Puri.
Living a luxurious life with her scientist father Manoj Sharma (Murphy Lawrence), who is now conducting investigations on numerous topics, is Saloni Sachdeva (Zoey Warner). While doing this one day, he forces Varun Bhardwaj (Jack Smith), a worker, to consume a potion, which causes his demise. After saving them, Rachit Priyadarshi (Paul Waiver) disposes of the body and begins extorting money from Manoj, which can only be stopped when Saloni marries Rachit. Then, one day, Saloni runs into Dixit Rathi (Saintha Paaji), a poet, and the two of them fall in love. Saloni declines his proposal of marriage when he makes it. The following day, Saloni discovers a note from Dixit Rathi to her in which he declares his intention to commit suicide. She then begins to hear Dixit's voice every night, accusing her of causing his death since his spirit is unable to find peace. With Dixit out of the way, Rachit can prepare for marrying Saloni without having to face any further challenges. It also appears that he may up getting his way with Manoj after all. However, he was indeed alive and just invisible all this time. His father assists in making him visible once more. They get married and have a successful marriage.
9. Joker
Even ardent Bollywood fans will be turned off by this Indian science fiction comedy with extraterrestrial characters. A retired NASA scientist named Agastya (Akshay Kumar) travels to a distant Indian town with his female "friend" Divya (Sonakshi Sinha). All of the people who live in "Paglapur" are asylum escapees, and they act as such. Three residents in particular take pleasure in dressing up as vegetarian aliens at night. They arrive in the hamlet when the Indian press and even the White House in Washington learn about this. Has alien life arrived on Earth? This confused mash-up of at least five Hollywood and Bollywood films has nothing to commend it, with the exception of a brief running time (by Hindi film standards).
The village of Paglapur serves as the backdrop. Paglapur was not included on the maps of India or Pakistan that were created in 1947 after Partition due to an error. It turns out that the community was home to the largest psychiatric hospital in the area. Paglapur was created when prisoners broke free during Partition and settled nearby.
The writing just can not be considered excellent. This is for an audience who finds it humorous to imagine an alien landing in India and bopping to sensual music. 
10. Action Replayy
One of the main characters in this sci-fi film goes back in time to fix his parents' love life so that their current dilemma can be handled. It does have a similar tone to the English film "Back to the Future," but that's where the connection ends. Aditya Roy Kapur's character Bunty loves Tanya, but he shies away whenever she brings up marriage. His fear of marriage is a result of his parents' contentious union, Kishen [Akshay Kumar] and Mala [Aishwarya Rai Bachchan]. Bunty is now in trouble, though. Professor Anthony Gonsalves, Tanya's grandfather, has given him the choice to wed Tanya or cease seeing her (Randhir Kapoor). Bunty is aware that unless he acts quickly, Tanya and his hopes for a happy ever after will never come true.

Bunty chooses to go back in time, rewrite Kishen and Mala's fate, and transform their troubled marriage into a passionate love affair as the surprise celebration for his parent's 35th wedding anniversary devolves into yet another explosive argument between the two of them. Akshay, Aishwarya, Aditya Roy Kapoor, and Rannvijay all did excellent acting work. While Neha Dhupia and Randhir Kapoor are completely ineffective, Rajpal Yadav, Om Puri, and Kiron Kher do well in their respective parts. Sudeepa, who plays Aditya's girlfriend, doesn't have anything to do besides look attractive, which makes it a horrible role for her acting debut.
Nitin Desai deserves praise for designing sets that bring the 1970s to life. Along with Pritam, who gave the movie music that is highly reminiscent of the 1970s, the dress designing department did a terrific job. Action Replay is a good sci-fi viewing, but Vipul Shah does a good job compared to his earlier films as a filmmaker.