Cabin: Smriti Irani, the Union Women and Child Development Minister, recently experienced a touching moment during a flight with IndiGo Airlines. Irani expressed her heartfelt appreciation for the cabin crew's warm welcome, which left a lasting impression on her. Taking to Instagram, she shared her gratitude and showcased the special gift she received from the crew.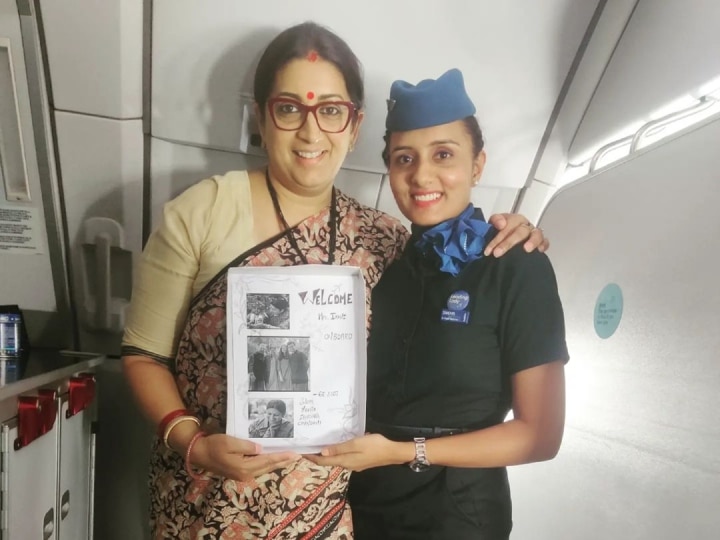 IndiGo Airlines' Cabin Crew Captivates Smriti Irani with a Heartfelt Reception
Irani's Instagram story featured a collage crafted by the cabin crew, featuring photos of the minister herself, accompanied by a heartfelt message of welcome. The crew members went the extra mile by including their names, adding a personal touch to their gesture. Overwhelmed by their kindness, Irani wrote, "When someone's kindness helps start your day on a sweet note," and tagged the crew members and the official handle of IndiGo Airlines, expressing her admiration with heart-eye emojis.
Additionally, the union minister shared a post by Sneha Jadhav, one of the cabin crew members. Jadhav's post featured a picture of herself with Irani and the thoughtful gift they had prepared. In her post, Jadhav expressed sincere appreciation for Irani, highlighting her warm personality and captivating smile. Having encountered various celebrities and politicians in her line of work, Jadhav noted that Irani stood out by radiating stardom with her beautiful smile and genuine warmth, making everyone around her, including Jadhav herself, feel at home.
Smriti Irani is known for her active presence on social media, utilizing the platform to share important messages and connect with her audience. In a recent post, she shared her "first ever" advertisement for a prominent company, focusing on the significance of menstrual hygiene. Irani's engagement with her followers and her willingness to use her influence to spread awareness about important issues have earned her appreciation from supporters.
The heartwarming gesture from the IndiGo cabin crew showcases the positive impact individuals can have through small acts of kindness. It highlights the power of creating a welcoming and comfortable environment for passengers, leaving a lasting impression on those they serve. Irani's appreciation for the cabin crew's thoughtfulness underscores the importance of acknowledging and valuing the efforts of frontline workers who contribute to the overall air travel experience.
Heartwarming Triumph: IndiGo Airlines' Exemplary Cabin Crew Leaves Smriti Irani Overjoyed with Joyful Gesture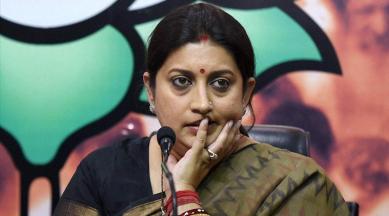 Instances like these serve as reminders of the significance of expressing gratitude and recognizing the hard work and dedication of individuals in various professions. Acts of kindness, no matter how small, possess the ability to brighten someone's day and create a positive ripple effect. This story serves as a reminder for all of us to appreciate and acknowledge the efforts of those who make a difference in our lives, spreading positivity and warmth through their interactions.
In conclusion, the heartwarming reception extended to Smriti Irani by the IndiGo cabin crew exemplifies the power of kindness and its ability to create a memorable experience. Irani's genuine appreciation reflects the impact such gestures can have on individuals. It serves as a reminder to value and appreciate the efforts of those who go above and beyond to make others feel welcome and cherished.
The incident involving Smriti Irani and the IndiGo cabin crew stands as a testament to the positive impact that simple acts of kindness can have on people's lives. It reminds us that in a fast-paced and often impersonal world, a genuine gesture of warmth and hospitality can make a significant difference in someone's day.
Irani's decision to share the cabin crew's heartfelt gesture on her social media platforms speaks volumes about her character and her appreciation for the efforts of others. By highlighting their kind act, she not only acknowledges their thoughtfulness but also sets an example for her followers to recognize and appreciate acts of kindness in their own lives.