PM Modi Champions Climate Justice on World Environment Day In a resolute address on World Environment Day, Prime Minister Narendra Modi emphasized India's unwavering commitment to both infrastructure development and environmental preservation. He criticized the flawed policies of certain developed nations, asserting that developing and underdeveloped countries bear the brunt of their consequences. PM Modi highlighted India's unique role in raising the crucial issue of climate justice on the global stage, emphasizing the need for a paradigm shift.
During his recorded message played at Vigyan Bhawan, the Prime Minister noted that the prevailing model, where nations prioritize their own development without considering the environmental impact, has long been adopted by major modern nations. However, he stressed that this approach comes at the cost of the global environment, particularly affecting the developing and underdeveloped countries. PM Modi underlined India's efforts to address this imbalance by raising the issue of climate justice with relevant countries worldwide.
As India makes unprecedented investments in infrastructure, PM Modi emphasized the country's equal focus on the environment. Drawing parallels between economic growth and ecological preservation, he cited examples such as the expansion of 4G and 5G connectivity alongside a substantial increase in forest cover. The Prime Minister highlighted India's achievements as it becomes the fifth-largest economy globally, expands renewable energy capacity, boosts agricultural exports, and spearheads a campaign to blend 20% ethanol in petrol.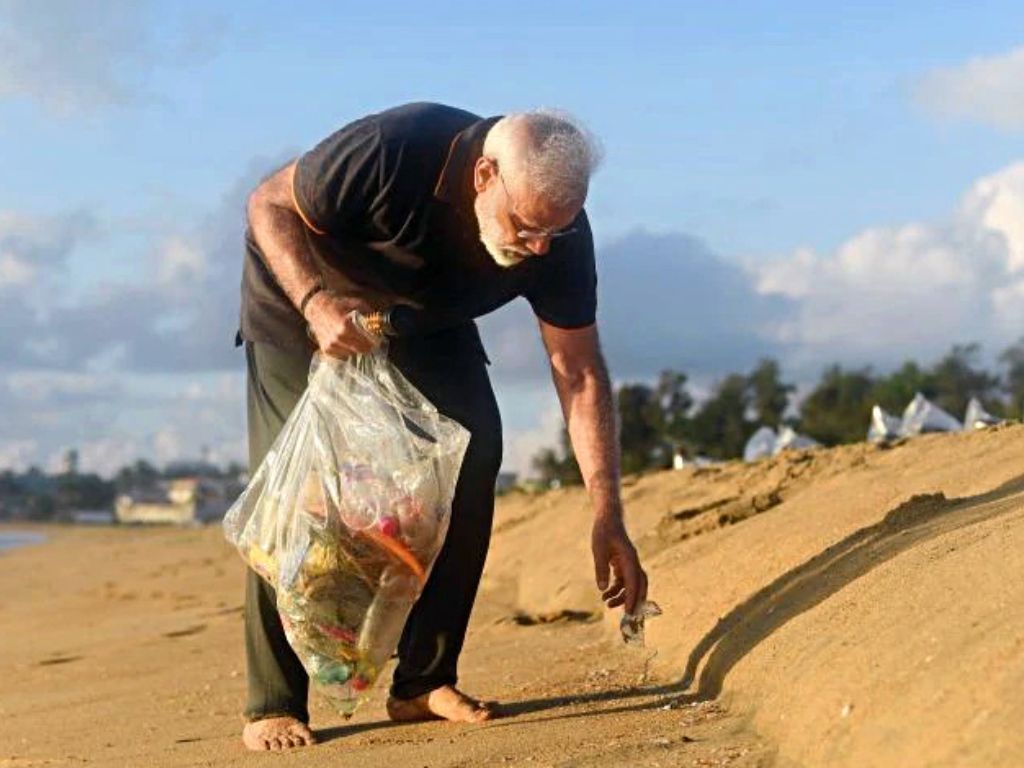 India has emerged as the base for notable organizations like the Coalition for Disaster Resilient Infrastructure (CDRI), International Solar Alliance, and the International Big Cat Alliance. PM Modi also emphasized the success of Mission LiFE (Lifestyle for Environment), which has evolved into a widespread public movement, fostering awareness about lifestyle changes to combat climate change. The mission, launched in Gujarat's Kevadia-Ekta Nagar last year, gained the participation of nearly 20 million people within 30 days of a recent campaign initiated by the Ministry of Environment, Forest, and Climate Change (MoEFCC).
PM Modi underscored that the consciousness regarding climate change extends beyond India, with growing global support for the initiative. Emphasizing this year's Environment Day theme, the campaign against single-use plastic, he noted that India has undertaken efforts at two levels: banning single-use plastic and mandating plastic waste processing. These measures have resulted in the compulsory recycling of approximately 3 million tonnes of plastic packaging, accounting for 75% of the country's annual plastic waste production.
Over the past nine years, India has placed unprecedented focus on clean and green energy. PM Modi cited the successful implementation of solar power projects and the adoption of LED bulbs, which not only save money but also contribute to low carbon energy. The Prime Minister also highlighted the significant increase in the number of wetlands and Ramsar sites in India over the same period.
Prime Minister Modi Stresses India's Commitment to Climate Justice on World Environment Day
Union Environment Minister Bhupender Yadav emphasized India's constructive participation in developing a zero draft for an international legally binding instrument on plastic pollution, including marine environments, with the aim to complete it by next year. He commended India's proactive role in the second session of the Intergovernmental Negotiating Committee (INC), held in Paris, which focused on a legally binding treaty on plastics.
Yadav pointed out that India had already banned the use and production of single-use plastic, placing the country ahead in the global campaign to eliminate single-use plastics. The INC, consisting of 193 UN member countries, is responsible for negotiating a legally binding instrument to end plastic pollution throughout the life cycle of plastic. The committee aims to develop a final draft for ratification by 2025.
In conclusion, PM Modi's address on World Environment Day highlighted India's steadfast commitment to climate justice and sustainable development. By raising global awareness of the need for equitable policies and environmental preservation, India aims to create a better future for all, ensuring a harmon