Pakistan denies it. According to sources, the IAF aircraft are flying a routine route from India to Turkey for missions involving humanitarian aid and disaster relief.
These missions demand overflight permissions from the countries going there.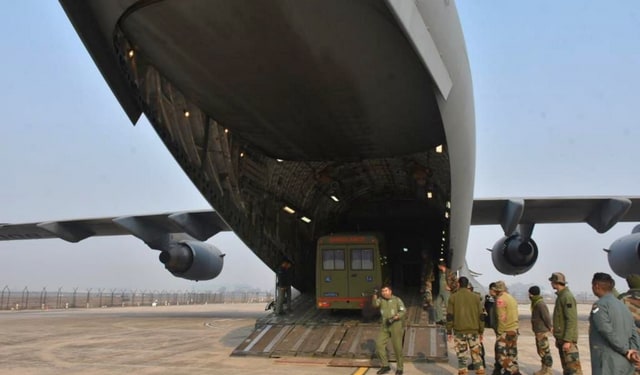 The Indian Air Force (IAF) is known for its capabilities in providing humanitarian assistance and disaster relief operations.
During such operations, the IAF aircraft follow a standard routine, which typically includes the following:
Pre-mission planning and coordination with relevant agencies to determine the best course of action.
Airborne surveillance of the affected area is needed to assess the situation and identify the areas most in need of assistance.
Deployment of air assets, such as transport aircraft, helicopters, and unmanned aerial vehicles, to deliver humanitarian aid, evacuate people, and support rescue and relief efforts.
Provision of medical support, including airlifting of critically injured individuals and providing air-ambulance services.
Coordination with ground-based teams and other agencies to ensure the smooth and efficient delivery of assistance to those in need.
The IAF's humanitarian assistance and disaster relief operations have earned it recognition and respect both nationally and internationally.
Early on Tuesday morning, reports said that Pakistan refused to allow Indian Air Force aircraft flying to Turkey access to its airspace.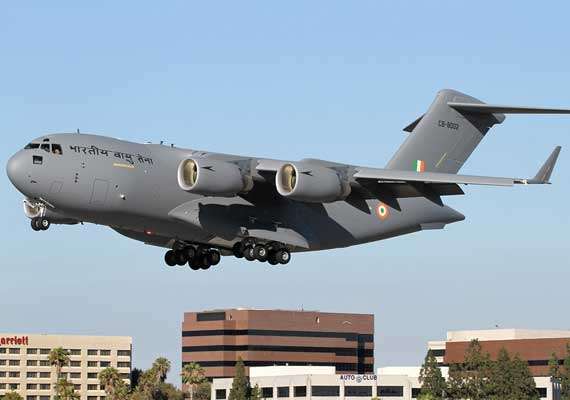 For the 2nd attempt, Pakistan is attempting to prevent India from delivering international assistance to nations that need it.
According to later reports from sources, IAF aircraft are flying HADR (Humanitarian Assistance and Disaster Relief) missions from India to Turkey according to a standard schedule.
These missions demand overflight permissions from the countries going there. The sources claim that "clearances were sought for the specific HADR missions in question for the daily ritual that the IAF operators fly regularly."
On Monday morning, a 7.9-magnitude earthquake struck Turkey and Syria, leaving more than 4,800 people dead, tens of thousands injured, and thousands trapped under the rubble of collapsed buildings.
This earthquake is currently regarded as one of the most devastating in west Asia's recorded history.
With state-of-the-art drilling equipment, medical personnel, and search and rescue dogs on hand, teams from the Indian National Disaster Response Force (NDRF) have already reached the airport in Adana.
However, they were forced to take an alternative route because Pakistan would not permit the flight to use its airspace.
The Indian National Disaster Response Force (NDRF) is a specialized central paramilitary force in India that is responsible for responding to natural and man-made disasters.
The NDRF was constituted under the Ministry of Home Affairs in 2006 and is trained and equipped to handle a range of disaster response operations, including search and rescue, evacuation, and relief and rehabilitation.
The NDRF has 12 battalions, each consisting of around 1,000 personnel, located in various regions of India.
These battalions are equipped with a range of specialized equipment, including boats, earth-moving machinery, and medical equipment, to enable them to carry out their operations effectively.
The NDRF is activated in the event of natural disasters, such as earthquakes, hurricanes, floods, and tsunamis, as well as man-made disasters, such as industrial accidents and building collapses.
The NDRF works closely with state and local authorities, as well as other national and international disaster response agencies, to provide effective and coordinated assistance to those affected by disasters.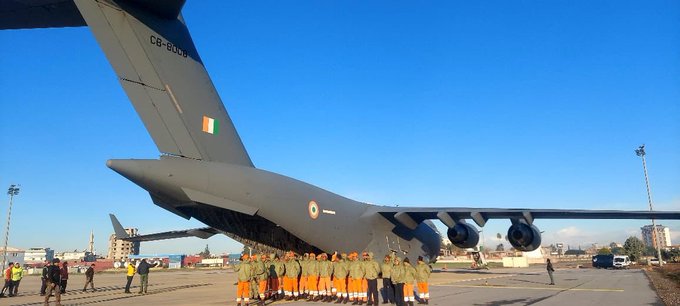 According to reports, the Indian Army is also mobilizing a field hospital to provide medical care to those in need in the area.
The last time Pakistan prohibited India from using its territory was after the Taliban took control of the country in 2021. As part of its humanitarian aid program, India decided in December to send 50,000 metric tonnes of wheat to the war-torn nation.
The shipment also contained life-saving medicines.
Islamabad suggested using Pakistani trucks to cross the border at Wagah to transport goods from India to Afghanistan. Later, citing an "exceptional basis for humanitarian purposes," it permitted the trucks to pass.
The flight, which took off from Hindon air base in Uttar Pradesh, had to take a detour, so Pakistan's action will probably draw criticism.
According to reports from Turkey and Syria, in some of the affected areas, survivors who were left shell-shocked have teamed up with the rescue workers to assist in pulling other victims from the rubble.
Both the White Helmets in Syria and the Disaster and Emergency Management Authority (AFAD) of Turkey are having difficulty saving people buried beneath the rubble in the cities of Azaz and Saqlin.
Turkish rescue efforts will be supported by the Indian mission in Turkey. The Indian government's assistance has been acknowledged by the Turkish embassy there."
The initial shipment of earthquake relief supplies, along with the special search and rescue teams and trained dog squads from the NDRF, have just arrived in Turkiye.
Tweets from the Turkish embassy "India, I appreciate your support and comradery.
Also, read these articles.