The world of movies, extra-glam parties, money, gossip & success describe Bollywood perfectly. Now if you are a hardcore Bollywood fan, you must be aware of the fact that Bollywood & Casting Couch is not something foreign. They work hand in hand, even if they walk in the dark. It's basically a part of the glitz & glam world where everyone wants to be something and earn his or her share of success.
Now, after the #MeeToo movement hit the Bollywood industry somewhere last year, many top actress & actors had opened up about-facing casting couch incidents as well as molestation cases by some of the other influential personality in the industry.
Some gave in, and some stood their ground, and worked twice as double as they could to get work. But the bitter truth is the fact that it still exists whether you like it or not, whether you speak about it or not. The latest actress to open up about her ill feelings and emotions on facing casting couch is a versatile, bold & fearless actress Richa Chadda.
From playing Nagma Khatoon in Gangs of Wasseypur to Bholi Punjaban, Richa has never heard or felt anxious about experimenting on screen with her characters. But sometimes, the path to the success you have now is never easy; it's full of thorns, obstacles & in Bollywood influential people who always know how to turn things around.
Even though being in the industry for such a long time, it always confuses people about how other people might think of you and it happened with Richa.
In a recent interview, Rich opened up about casting couch and said, "At times I did not understand people's gestures.
I was very young and at that time my understanding was also less. One day a man came to me and said we should have dinner together". She carried on further with her story by narrating what happened after she refused for the dinner because she genuinely felt that he was asking her to accompany him for the dinner, which she had already eaten. "But after that, the man touched me and said that we should have dinner, then I understood what he wanted to say. This did not happen just once, it has happened after I become an established actress as well.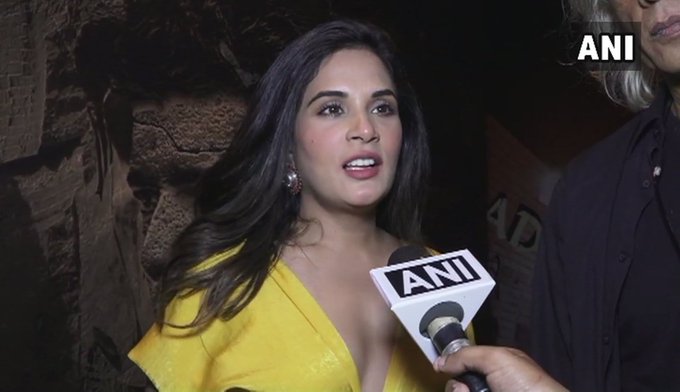 I have refused to give up, and I have lost projects for saying NO but it's okay. "It's a sad reality that actresses like Richa Chadda and many more who have built their careers on the basis of genuine talent are still facing issues like Casting Couch in the industry and no one is doing anything to stop it. Many struggling actresses & actors have also revealed that because they want to enter the Bollywood industry and their desperation is out wide on the person who asks for a favor's desk, they give in because let's be honest, nepotism exists in Bollywood.
There is no way that you can be all nice, and sweet and enter a world of Bollywood, so they give it. But the ones who say NO are facing a lot of troubles and they end up doing part-time odd jobs to survive. It's the harsh reality of Bollywood. Richa Chadda has always been outspoken and fearless about what she feels and that quality makes her one of the finest actresses in the Bollywood industry. She is known for her righteous debatable viewpoints and unapologetic opinions on any matter she feels. Richa was last seen in Section 375 opposite Akshaye Khanna and will be seen in upcoming sports drama titled Panga.