Background of the Controversy: 
The controversy between Priya Ramani and ex-External Affairs Union Minister for the State, MJ Akbar has been long ongoing since the rise of the #MeToo movement. The #MeToo movement saw women from all walks of life raise their voices against well-known names. The list of accused was long, with names of editors, writers, actors, filmmakers etc. Allegations lined up one after another implicating even very famous men like Rajat Kapoor, Kailash Kher and Chetan Bhagat. One in the many cases was where journalist Priya Ramani slashed charges of sexual assault on MJ Akbar.
She chose to join the social media upheaval in the movement and published an article titled "To the Harvey Weinsteins of the world". In the article, she describes MJ Akbar as an expert on 'obscene phone calls, texts, inappropriate compliments and for not taking no for an answer.' The article also read the Akbar knew how to pat, pinch, rub, grab and assault and revealed that the many women-victims of Akbar, as alleged are staying silent because raising a voice against him has a heavy price to pay, which these women cannot afford.
In a tweet, she indicated that he is a 'predator' and other women-victims of him have stories worse than hers. Following the allegation first pressed by Priya Ramani in the open, a lot of women raised their voices at sexual harassment at the workplace at the hands of MJ Akbar. Most of the described a scene where Akbar, as an editor, would take interviews on the bed and offer alcohol to these women. A woman said, he did not 'do' anything, but the entire scene made her feel uncomfortable, and she denied the job offer.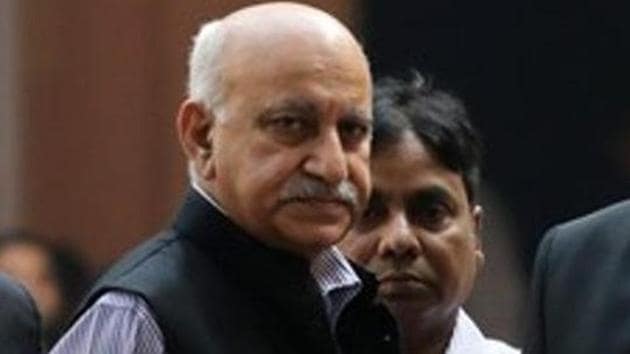 MJ Akbar stepped down as Minister of External Affairs, says will fight in 'personal capacity'.
Within ten days of Journalist Ramani making the allegation, the matter was taken by a storm on social media in India and across the world. The case of accusations of sexual assault and predatory behaviour escalated to the extent that the then Minister of External Affairs, MJ Akbar had to step down his post. At a minimum, some 12 women-journalists came out accusing Akbar, a strong personality in politics, of similar accusations of sexual assault. On tendering the resignation, Akbar remarked that he is resigning from office since he has to fight these allegations thrown at him in 'a personal capacity'. He said that to 'seek justice' it is only appropriate to step down from the office and to challenge these false allegations levied against him, in a personal capacity.
MJ Akbar filed a defamation suit against Priya Ramani
Soon after, MJ Akbar decided to file a criminal case of defamation against the first person to have spoken against him, Journalist Priya Ramani. The minister accused Ramani of "wilfully, deliberately, intentionally and maliciously" defaming him and has moved the court seeking her prosecution on defamation under the relevant provisions of the Indian Penal Code.
Appearing for MJ at the time of filing of the complaint of defamation was Advocate Sandeep Kapur (Senior Partner, Karanjawala & Co) Through a petition presented before the court, he sought issuance of legal notice to Ramani under relevant provisions of the Indian Penal Code [IPC]- Section 499 and Section 500, which consists the offence of defamation and its punishment, respectively. The penalty for the crime of defamation as given in Section 500 is imprisonment up to two years or fine or both if the court orders a conviction under the relevant provision of the penal code.
The primary allegations of the Union Minister are that these allegations are "false and fabricated, spiced up by innuendo and malice." Akbar released a statement to the media in this regard, where he said that these accusations come without any evidentiary value. Moreover, he noted that such baseless allegations have started to spread like 'a viral fever' among some sections. He assured that his lawyers would look into the 'wild and baseless' allegations put against him.
Delhi court frames charges of Defamation against Priya Ramani- Cross-Examination of Ramani. 
Recently, the case has proceeded further in a Delhi court. The court has framed charged of defamation against Priya Ramani in private case filed by MJ Akbar. Priya appeared before the Additional Chief Metropolitan Magistrate Samar Vishal recently and has pleaded not guilty claiming a full trial in this matter. After listing the case for a later date, the court has also granted Ramani a permanent exemption from personal appearance in the matter.
While the matter was ongoing before the court on October 24, 2019, Priya Ramani deposed before the court that her act of de-activating her twitter account was not a deliberate move to destroy evidence as the same can be re-activated. She shared that the case has caused a lot of difficulties in her daily life.
She keeps travelling to and fro Delhi and has been entirely unable to focus on her personal life and family. She said that the twitter account, required for confirming the comments she made can be re-activated and has not been deleted but only de-activated. The matter was before the court of Additional Chief Metropolitan Magistrate Samar Vishal, while she was being cross-examined by senior counsel Geeta Luthra, appearing on behalf of M J Akbar. 
The matter of Priya's twitter account came up before the court when Luthra showed Ramani some comments from different Twitter handles (@rajivazad and @indiawassup). These comments were shown as proof as to how the users reacted to Ramani's tweet alleging MJ Akbar. On being shown the said comments by counsel Luthra, Ramani told the court that she had not read the comments earlier before. On being asked whether she can confirm these comments by opening her twitter account, Ramani said "I deleted my Twitter account around a month ago, so it cannot be verified now. I do not remember the specific date."
Luthra asked Ramani while her cross-examination as to whether or not she was aware that her Twitter account is evidence in this instant matter. This question was objected by Senior Advocate Rebecca John appearing on behalf of Journalist Priya Ramani. John said that the Twitter account of the accused is not evidence in the case. Instead, it is only the tweets which form the subject matter of the fact. She said that her tweets relevant to the case have been admitted and exhibited as evidence in the matter. This question was delayed by the ACMM hearing the case, to be 'decided during the time of the judgment'.
Ramani firmly took the stand that it is inappropriate to conclude that these comments and replies to a tweet made by her in this regard have 'lowered the reputation of the prosecutor- MJ Akbar. She said that the estimation was between her tweets as against the others who were following the tweets. 
Luthra also said that the comments and replies made on the tweets from her handle have become inaccessible because Ramani deleted the account. Ramani to this explained that this is not true as she has not removed her account but only de-activated it. To this, even the ACMM Vishal hearing the matter asked Ramani whether these comments and replies can be accessed once she re-activates her Twitter handle using the same account, to which Priya replied: "I think so".
Luthra went ahead in her cross-examination and asked the journalist Priya Ramni whether she had de-activated her Facebook account. Ramani released that she has not de-activated her Facebook account and has 700 friends on Facebook. Luthra examined as to whether she had re-tweeted any of Akbar's earlier tweets?. Ramani could not recollect and informed the same to the court. Luthra then showed Ramani a copy of her re-tweet, tweeted initially by Akbar. The post was regarding the wrong way of using metaphors in writing. 
 On being shown the re-tweets-tweets, Priya deposed before the court saying that, 
 "I may have on 04.12.2010 re-tweeted a tweet of Mr Akbar's on how not to use metaphors. I do not remember that on 14.12.2010, I tweeted about Mr Akbar's Times of India column as compared to India today writing".
Counsel Geeta Luthra, further suggested that on previous occasions some the tweets and re-tweets of Priya Ramani were posted online in praise of the work of M.J. Akbar. To this, Priya replied that she does not think so. Her cross-examination has not yet been completed and is set to be held again on October 25, 2019.
Updates from the hearing on October 25, 2019- Recording the statement of the Ramani's witness Niolufer. 
In court today, the statement of a witness on behalf of the Raman's was to be recorded in the court of ACMM Samar Vishal. Her first witness was Niloufer Venkatraman, who was administered to an oath. She deposed before the court that she lives with her family in Mumbai. Deposing before the court about her professional credentials, she said that she works as an editorial consultant for Roundglass Sustain, a wildlife and conservation website. She remarked before the court that from November 2011 to March 2017, she was the editor-in-chief at the National Geographic Traveller India Magazine.
As a part of her statement, she remembered and told the court what had taken place on October 8, 2018. She said that on October 08, 2019 late in the evening, she logged into her Twitter feed to find that her friend, who is also a journalist, Priya Ramani had a recent tweet. On perusing the contents of her tweet, it came to her notice that Ramani had revealed an incident of sexual harassment involving Mr Akbar and referred to an article she had written in Vogue a year earlier regarding the same episode, without naming Akbar outwardly. She said that thereafter, she followed the link and read the article by Priya Ramani.
Niloufer said that she was aware of what had happened in the interview, as she was present there, a few minutes before the beginning of the interview. However, she was noo sure if Ramani was planning to call out MJ Akbar's name out in the open. Later, Niloufer talked to Ramani and caught other details of the incident. She was in full support of Priya and had even delayed her daughter's bedtime to take her through what the MeToo movement was about and that Priya Ramani, her friend had spoken out of harassment. 
About the incident, she went back to her acquaintance with Priya in 1988 at the Xavier's Institute of Communication. Both enrolled in the same course. Even in the United States, both Niolufer and Priya and went to the same university band for PhD.  
She then remembered, that in December 1933 Priya while looking for a job at Asian Age had met the Editor Mr M.J. Akbar. Priya told Niolufer that Akbar had told her to come to Oberoi Hotel for an interview. Niolufer even did a mock interview for Priya before she finally went before Mr Akbar. However, as soon as Priya went in, Niolufer left for her home. While Priya called her back that night after dinner, she seemed 'upset and distraught'.
On getting into the details, Priya had informed Niolufer that the interview was not taken in a public place but at Mr Akbar's room, where there was no one else. She recalled that Priya had felt completely uncomfortable in the presence of Mr Akbar, especially when he offered her an alcoholic drink and he was himself having a drink. Niolufer told the court that Priya had said that Mr Akbar was very unprofessional, singing old Hindi songs to her and asking her to sit closer to him on the sofa. Niolufer called the details as 'bizarre and inappropriate.'
To Niolufer's statement, counsel Getta Luthra said that she needs some time to prepare a cross to examine for her. She also remarked that Niolufer is so prepared as if 'she was a ghost in the (alleged) room at The Oberoi'.  Senior Advocate Rebecca John objected to the adjournment sought by the complainant-prosecutor. She defended the testimony of Niloufer and said that it is covered by the principle of res gestae under Evidence Law. 
The ACMM ordered that the court will record their undertaking and directed thee, complainants, to finish their cross-examination within one day's time. The judge made it clear that another adjournment in the ongoing case will not be given.  The last question asked by Luthra as a part of the cross-examination was whether she (Niolufer) had read the comments of other people on Ramani's tweets? Niolufer despised that she did not.  The proceedings in this matter were djourned for the day, and it was posted on November 06.