The results of the Haryana assembly elections came on Thursday. After this, speculations started to form a government in the state. Meanwhile, Haryana Lokhit Party founder and MLA Gopal Kanda has announced unconditional support to the BJP.
Kanda says BJP is my family. The Sangh is in my soul. Today there is no charge against me. Let us tell you that Kan da is the main accused in the suicide case of Geetika Sharma. Actually, Gopal Kan da said this to the media in response to questions asked to support BJP on Friday.
He said that my family has been associated with RSS. My father joined the Sangh in 1926. My whole family is with the union. The news of scam against me are lies. So far, only one false case has been registered against me in the Congress government in my life.
Kanda also praised Prime Minister Modi
On the question of giving unconditional support to the BJP, he said that the country is developing under the leadership of Modiji. Our family has an old bond with the BJP and the Sangh.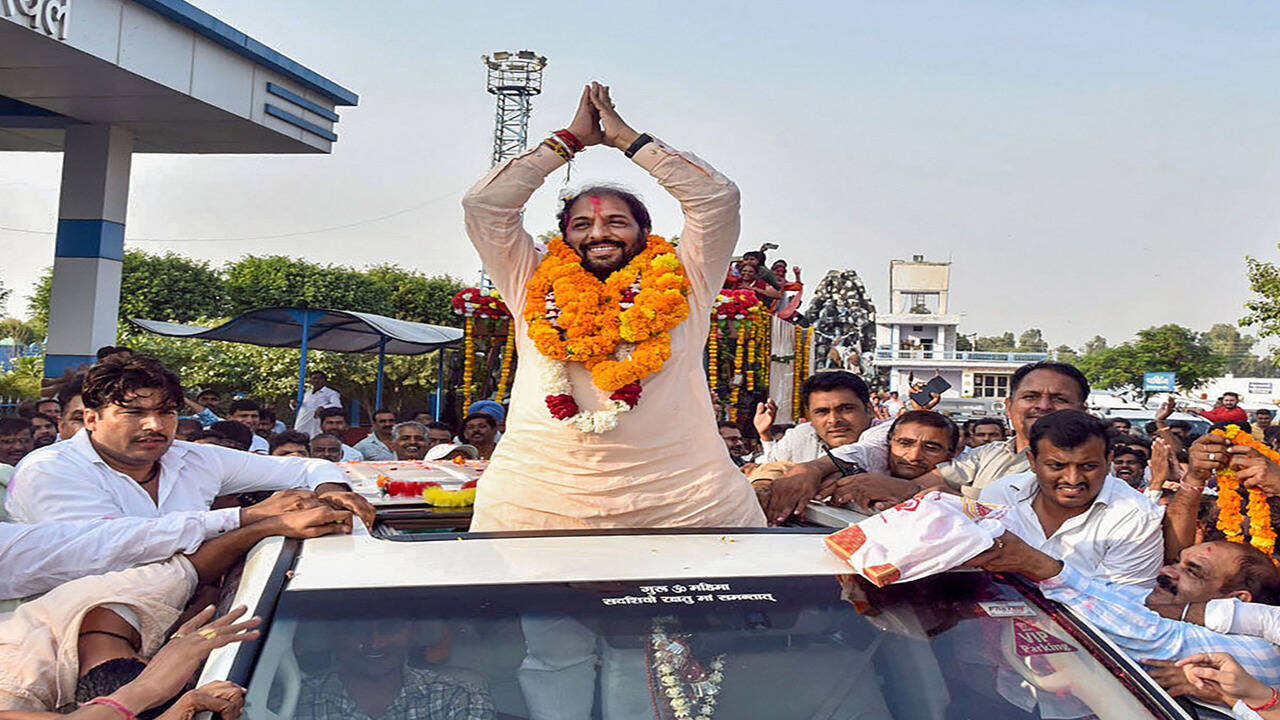 Gopal Kanda is the main accused in the suicide of Airhostess Geetika Sharma. Geetika wrote Kanda's name in her suicide note. An FIR was registered against him in this case by the Delhi Police.
Meeting with Khattar, know who is Gopal Kanda
Gopal Kan da also claimed in front of the media that all the independent MLAs are ready to support the BJP unconditionally. Let us tell you that Kanda and other independent MLAs are about to meet Manohar Lal Khattar at the Haryana Bhavan in Delhi shortly.
Gopal Kanda won as an independent candidate in 2009 and became a minister in the Hooda government. In 2012, Geetika Sharma, a female employee working in his airline company MDLR, commit suicide. Kanda was made the main accused in the case.
Kanda came in headlines with new equations
Kan da once again came into the limelight due to the equations made after the results of the Haryana Assembly elections on Thursday. With this, the trend started on social media about Gopal Kan da. Haryana Lokhit Party founder Gopal Kanda has won the election from Sirsa. He defeated Independent candidate Gokul Setia by 602 votes.
No party has absolute majority in Haryana 
No party has got an absolute majority in the results of the assembly elections held in Haryana. BJP has got 40 seats, Congress 31, JJP 10 and others 8 seats. In such a situation, Gopal Kan da has declared support for the BJP. At the same time, the BJP itself seems confident about forming a government in the state. Six MLAs are needed to form the government in Haryana.