Union Health Ministry in collaboration with All India Institute of Medical Sciences (AIIMS) launched 'e-Dantseva' initiative to raise awareness on oral health. This first-ever digital platform comprises a website and an app which has been released nationwide with a purpose not only to give oral health information but also provide knowledge dissemination.
The Ministry released this platform considering the ongoing need of providing knowledge and information to people via various digital platforms. 'e-Dantseva' is a critical measure as it will reach out to the billions of people with the help of just a single click, be it a website or the associated application.
Dr Harsh Vardhan, Union Minister of Health and Family Welfare, who launched this initiative on 7th October, said "Oral health is indispensable for the wellbeing and good quality of life. 'e-DantSeva' is the first-ever national digital platform that provides oral health information both in the form of a website and mobile application,".
He further added, "Poor oral health affects growth negatively in all aspects of human development. Dental caries/cavities and periodontal disease remain the two most prevalent dental diseases of the Indian population and dental infections have a potential for serious diseases/infections".
'e-Dantseva' platform includes information regarding the National Oral Health Program, a detailed list of all the dental facility and colleges, and Information, Education and Communication (IEC) material.
It also has a unique feature called the 'Symptom Checker', providing information related to various symptoms of oral & dental diseases along with their preventive and treatment measures. Not only this, but the app also helps the user to find the nearest dental facility (including private and public sectors) along with other features such as providing GPRS routes, images, and satellite images of the facility for an easier navigation and make the service more accessible to the general population.
Apart from the general people, the Ministry also has well taken care of visually impaired individuals. It also released specialised Printed Braille oral health books along with the voice-over for the blind population on e-DantSeva. Hence, those who cannot see can read, hear and know about oral health. Two visually impaired children showed how the Braille booklets can serve as useful tools at this event.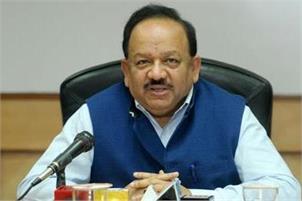 They have developed the IEC material to make people aware of the myths and misconceptions regarding maternal and child health, encouraging dental check-ups and dentist-visits during pregnancy and early childhood years.
The National Oral Health Program (NHOP) started in 2014 has the Center for Dental Education and Research (CDER), AIIMS, New Delhi functioning as its National Center of Excellence for Implementation. This centre caters to provide support & consultation for any research and other activities of the NHOP.
The event also witnessed Director of AIIMS New Delhi, Prof. Randeep Guleria, Smt. Preeti Sudan, Secretary (Health), CDER Chief Dr O P Kharbanda, Indian Dental Association Secretary, Dr Ashok Dhoble, students and faculty from Blind Relief Association (BRA) and other senior officers from the Health Ministry and the faculty of AIIMS.