27 years old, Sara Ali Khan Elegantly Flaunts Her Classy Balenciaga Bag: A Power Move Radiating Positive Vibes, Covering the Cost of a Wedding with Style!
Sara Ali Khan Elegantly Flaunts Her Classy Balenciaga Bag!
Sara Ali Khan, a rising star in the Indian film industry, has captured the hearts of audiences with her talent, charm, and genuine persona. Born on August 12, 1995, Sara is the daughter of actors Saif Ali Khan and Amrita Singh.
Despite hailing from a prominent film family, she has managed to create a unique identity of her own. Sara made her much-awaited debut in Bollywood with the film "Kedarnath" in 2018, where Sara Ali khan showcased her acting prowess and garnered critical acclaim for her performance. She followed it up with the commercial success "Simmba" the same year, solidifying her position in the industry.
Known for her radiant smile and down-to-earth nature, Sara's infectious energy and positive attitude have endeared her to fans and admirers. Sara Ali khan is often admired for her sartorial choices and her ability to effortlessly pull off a range of looks, from traditional to contemporary, with grace and confidence.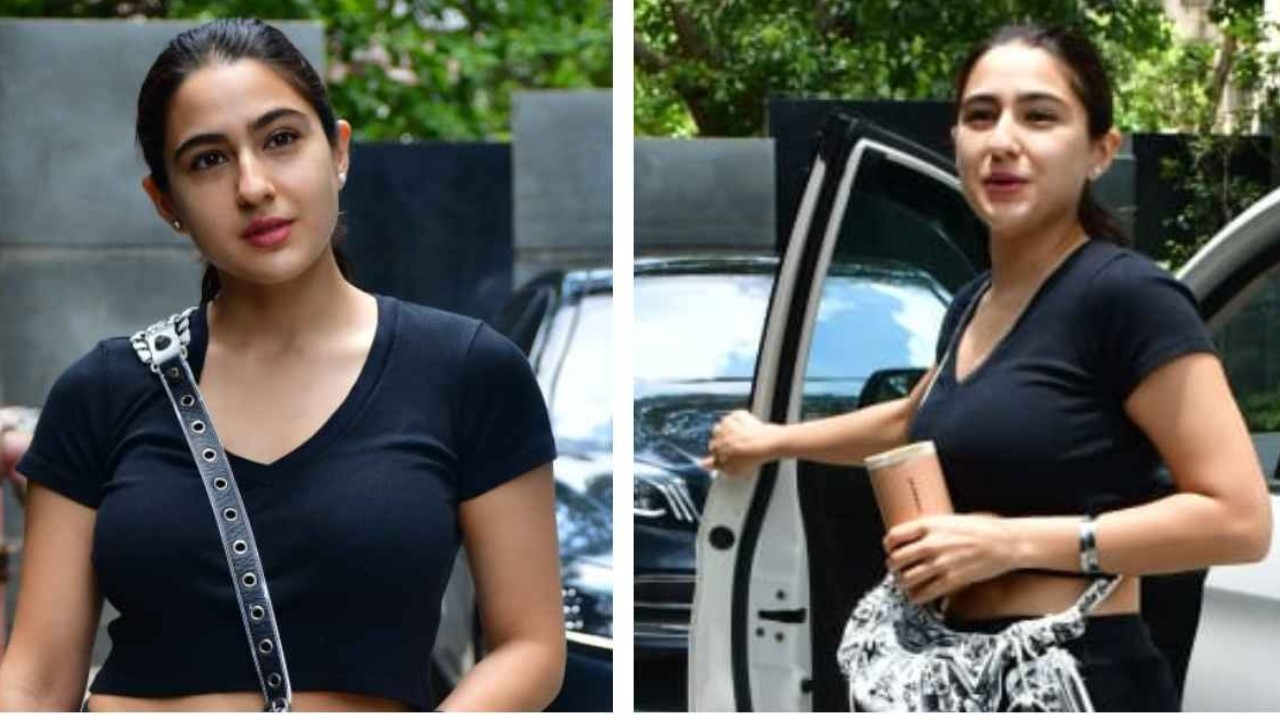 Beyond her acting and fashion endeavors, Sara has also become a youth icon, inspiring many with her journey of weight loss and body transformation. She openly shares her fitness journey, promoting body positivity and a healthy lifestyle.
Apart from her on-screen presence, Sara's interviews and interactions with the media display her candid and witty personality, making her an endearing and relatable public figure.
As she continues to explore different roles and genres in the film industry, Sara Ali Khan remains an actress to watch out for, with a promising career ahead and a loyal fan following that continues to grow. Her journey so far showcases a blend of talent, versatility, and a genuine connection with her audience, making her a beloved and admired figure in Indian cinema.
Sara Ali Khan has undoubtedly carved a niche for herself in the world of fashion with her impeccable sense of style. Whether it's glamorous party wear, sophisticated formal outfits, stunning red-carpet ensembles, or even simple and casual looks, she manages to effortlessly pull off every ensemble with panache.
Her versatility in fashion is evident as she effortlessly transforms even the most basic outfits into super cool and stylish get-ups. Her ability to mix and match different elements and create unique combinations sets her apart as a fashion trendsetter.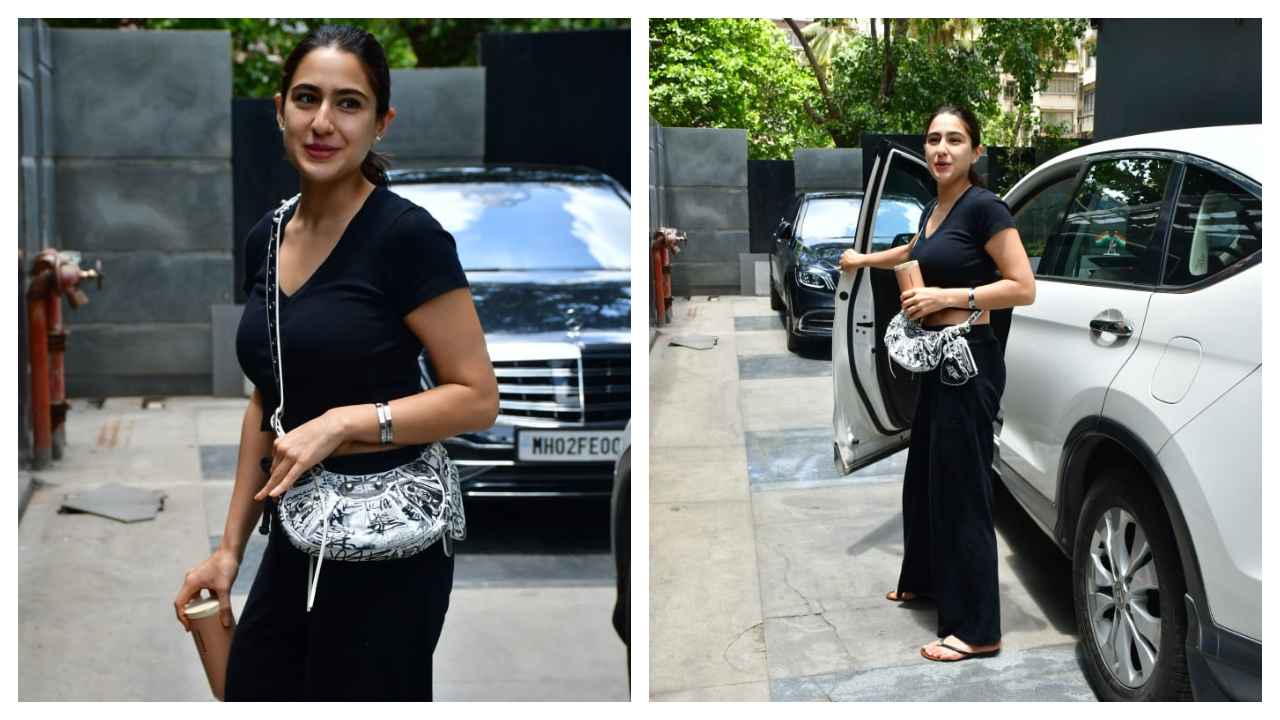 One of Sara's most captivating features is her infectious and beyond-radiant smile. It adds an extra touch of charm and appeal to every look she carries. Her smile exudes confidence and positivity, making her even more endearing to her fans.
Beyond her fashion choices and radiant smile, Sara's down-to-earth personality and relatable demeanor have endeared her to a wide audience. She comes across as genuine and approachable, making her a role model for many young individuals.
Sara Ali Khan's choice of outfit, a black coordinated set, seems to reflect her effortless and chic style. The black v-neck cropped top, paired with loose black pants, creates a coordinated look that exudes a casual yet trendy vibe.
The cropped top showcases a bit of skin, adding a touch of playfulness to the ensemble, while the loose-fitting pants ensure comfort without compromising on style. This combination strikes a balance between being relaxed and fashionable, making it suitable for various occasions.
To complete her look, Sara opted for strappy black slippers, which not only complement the outfit but also enhance the casual aesthetic she was going for. Strappy slippers are comfortable and versatile, adding a laid-back feel to the overall appearance.
Sara Ali Khan's addition of a silver bracelet and minimalistic earrings to her black coordinated set further enhances her overall look. The choice of silver accessories complements the black ensemble, adding a touch of subtle elegance without overpowering the simplicity of the outfit.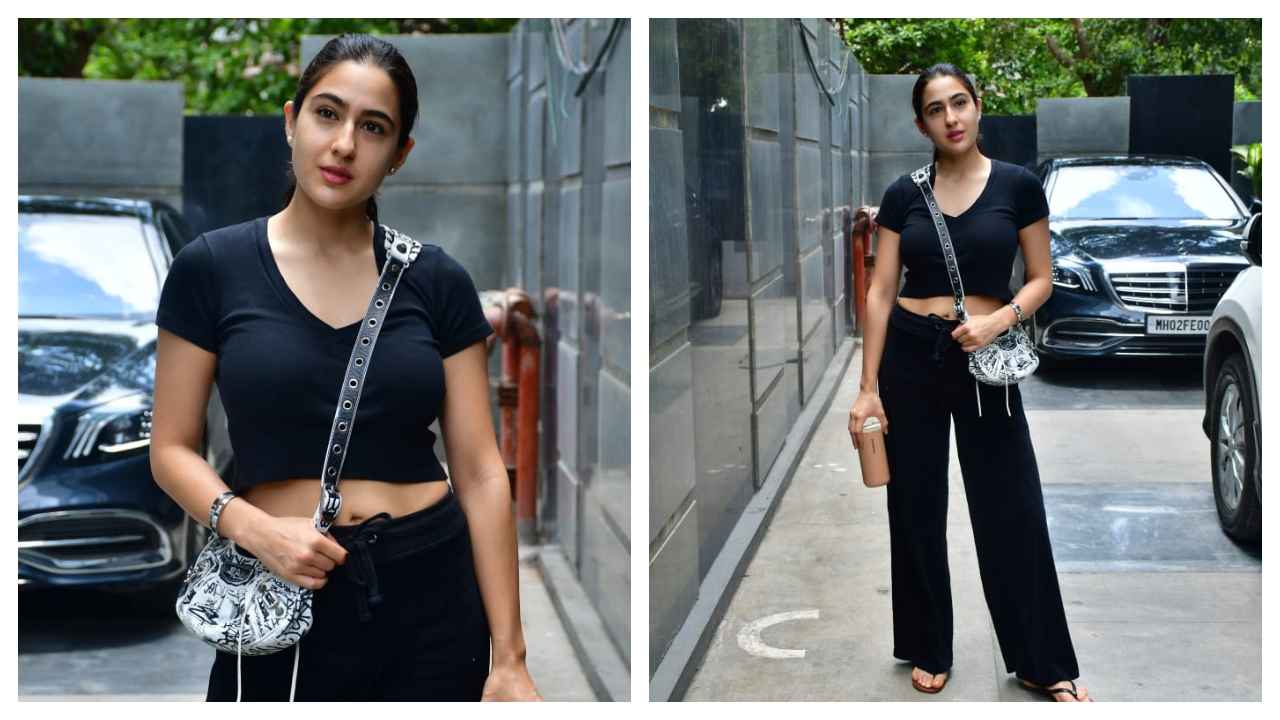 The silver bracelet serves as a stylish statement piece that adorns her wrist, providing a subtle pop of shine and sophistication. Minimalistic earrings, likely in silver, add a delicate and refined touch to her appearance, drawing attention to her face without overshadowing her radiant smile.
By opting for minimalistic jewelry, Sara demonstrates her understanding of how to strike a balance between accessorizing and maintaining the casual charm of the outfit. Such choices can help elevate a simple ensemble and make it suitable for a variety of occasions, whether it be a casual outing or a more formal event.
Sara Ali Khan's decision to tie her hair in a neat ponytail adds a sense of sophistication and tidiness to her overall appearance. The ponytail not only keeps her hair out of her face but also allows her natural beauty to take center stage. By opting for a simple hairstyle, she maintains the casual and effortless vibe of her outfit.
Her choice to go with a natural no-makeup look further enhances her radiant charm. Embracing her natural features, Sara exudes confidence and authenticity. This minimal approach to makeup aligns perfectly with the casual theme of her ensemble, ensuring that her outfit remains the focal point of her appearance.
Posing for the paparazzi with a sweet smile, Sara Ali Khan exudes warmth and approachability. Her genuine and infectious smile adds to the overall charm of her look, making her even more endearing to her fans and the public.
By effortlessly combining a coordinated set with minimal accessories, a neat ponytail, and a natural no-makeup look, Sara showcases her ability to embrace simplicity while still looking chic and stylish. Her poised and laid-back demeanor only adds to the appeal, making her a fashion icon who knows how to shine in any setting.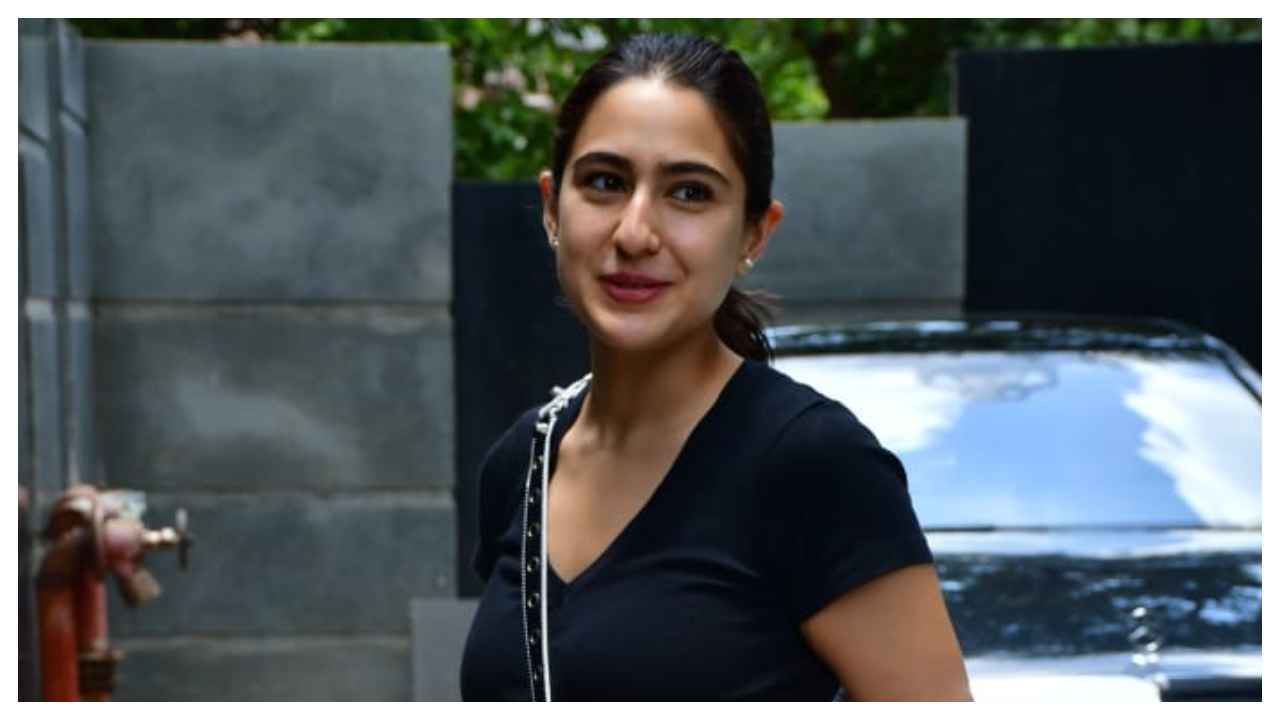 Carrying a Balenciaga Le Cagole Xs Shoulder Bag worth Rs. 3,33,000 (approximately) is indeed extremely extravagant. Balenciaga is a luxury designer brand known for its high-quality and premium products, and their accessories often come with a hefty price tag. The Le Cagole Xs Shoulder Bag is no exception, and its cost reflects the brand's exclusivity and craftsmanship.
For many people, spending such a significant amount on a single accessory might seem extravagant or even unattainable. Luxury items like this designer bag cater to a niche market of fashion enthusiasts and collectors who value the brand's prestige and are willing to invest in high-end fashion.
Celebrities and public figures often have access to luxury items like this and may choose to flaunt them as a way to express their style, status, and appreciation for exquisite craftsmanship.
It's essential to remember that fashion and luxury preferences vary from person to person, and while some may find it extravagant, others may see it as an investment in quality and a reflection of personal taste.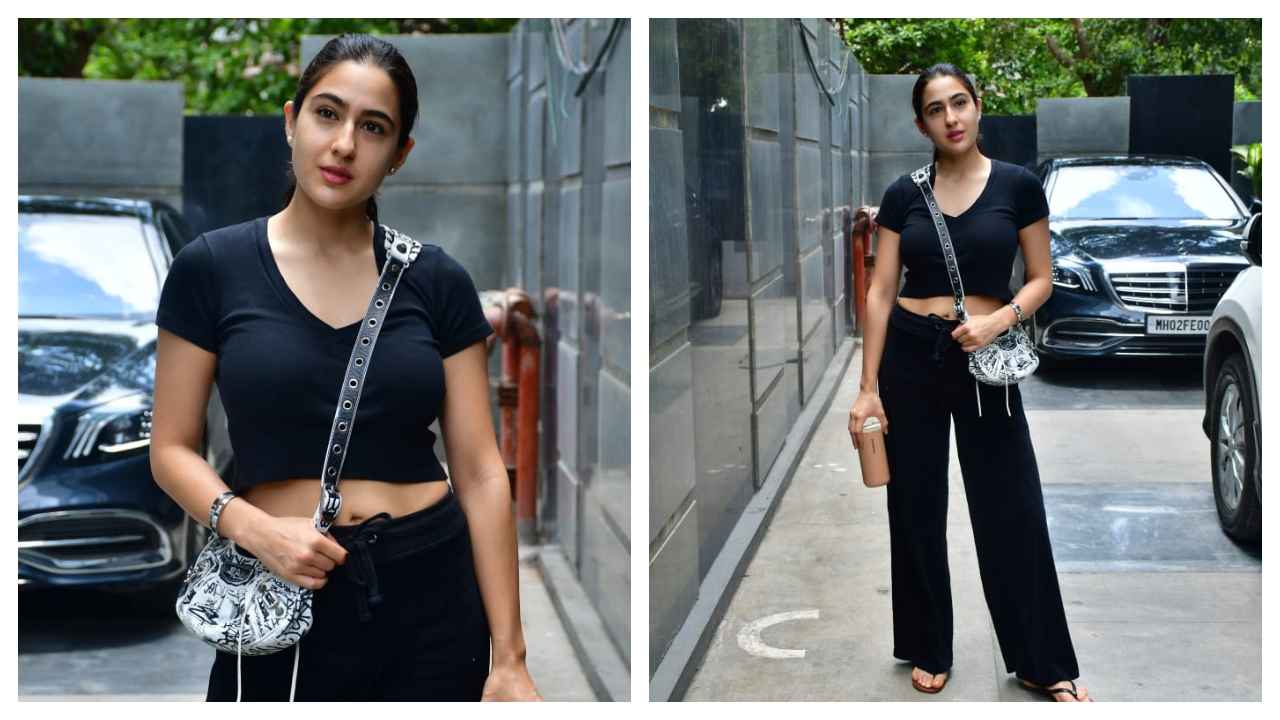 Ultimately, one's perception of extravagance in fashion is subjective, and it's essential to respect individual choices and preferences when it comes to style and luxury purchases.