In anticipation of the destructive impact of Cyclone Biparjoy, several major oil and container ports have suspended their operations. Among them is the prominent Mundra operation of the Adani Group. The cyclone, classified as a very severe cyclonic storm by the Indian Meteorological Department (IMD), has prompted the IMD to issue a storm surge warning for coastal areas in Gujarat. Specifically, the IMD has highlighted the likelihood of low-lying areas in districts such as Kachchh, Devbhumi Dwarka, Porbandar, Jamnagar, and Morbi being inundated. Although Cyclone Biparjoy has weakened slightly, experts caution that it may regain strength and unleash colossal devastation, particularly through massive storm surges in Gujarat.
Coastal Regions Prepare for Devastation as Cyclone Biparjoy Triggers Major Ports Shutdown
Cyclone Biparjoy is rapidly approaching the Indian shores and is expected to make landfall on June 15. The IMD has raised a red alert for the coasts of Saurashtra and Kutch as the cyclone advances towards a landfall location between Gujarat's Mandvi and Pakistan's port city of Karachi. According to the IMD, sea conditions along the Saurashtra and Kutch coasts will be extremely rough until Wednesday evening and remain high to phenomenal thereafter until Thursday evening.
The weather monitoring agency has also warned of severe damage to infrastructure and properties. Thatched houses are likely to be completely destroyed, while kutcha houses are expected to sustain extensive damage in districts such as Kachchh, Devbhumi Dwarka, Porbandar, Jamnagar, Morbi, Junagarh, and Rajkot. The cyclonic storm's powerful winds may uproot power and communication poles, disrupt railways, and cause harm to standing crops, plantations, and orchards.
As of the latest update, Cyclone Biparjoy is currently centered over the Northeast Arabian Sea, approximately 280 km southwest of Gujarat's Jakhau Port, 290 km west-southwest of Devbhumi Dwarka, 300 km west-southwest of Naliya, 350 km west of Porbandar, and 340 km south-southwest of Karachi, Pakistan. The very severe cyclonic storm is projected to move nearly north-northeastwards and cross Saurashtra and Kutch, along with adjoining Pakistan coasts, between Mandvi and Karachi near Jakhau Port on the evening of June 15. It is forecasted to have a maximum sustained wind speed of 125-135 kmph, gusting up to 150 kmph.
The cyclone system is predicted to bring light to moderate rainfall to most coastal areas of Gujarat, with heavy to very heavy rainfall and extremely heavy falls at isolated places. On June 15, the intensity of rainfall is expected to increase significantly, with heavy to very heavy rainfall forecasted for Kachchh, Devbhumi Dwarka, and Jamnagar. Additionally, parts of Porbandar, Rajkot, Morbi, and Junagarh districts may experience heavy to very heavy rainfall, while isolated places in Saurashtra and the north Gujarat region may receive heavy to very heavy rainfall.
Crisis Looms: Coastal Areas Brace for Devastation as Cyclone Biparjoy Approaches: Ports Shutdown and Evacuations Underway
In light of the impending cyclone, numerous train services have been canceled or shortened. Western Railway has announced that approximately 95 trains passing through, originating from, or terminating in Gujarat's coastal areas will be affected until June 15. This includes trains such as the Bandra Terminus – Bhuj AC Superfast Express, Dadar – Bhuj Express, Bandra Terminus – Bhuj Kutch Express, Okha – Rajkot Unreserved Special, and many more.
The cyclone's impact on the region is significant, leading to theshort-termination and short-origination of several train services. Trains like the Mumbai Central – Okha Saurashtra Mail, Bandra Terminus – Veraval Express, Jabalpur – Veraval Express, Secunderabad – Porbandar Express, and more will be affected by these changes.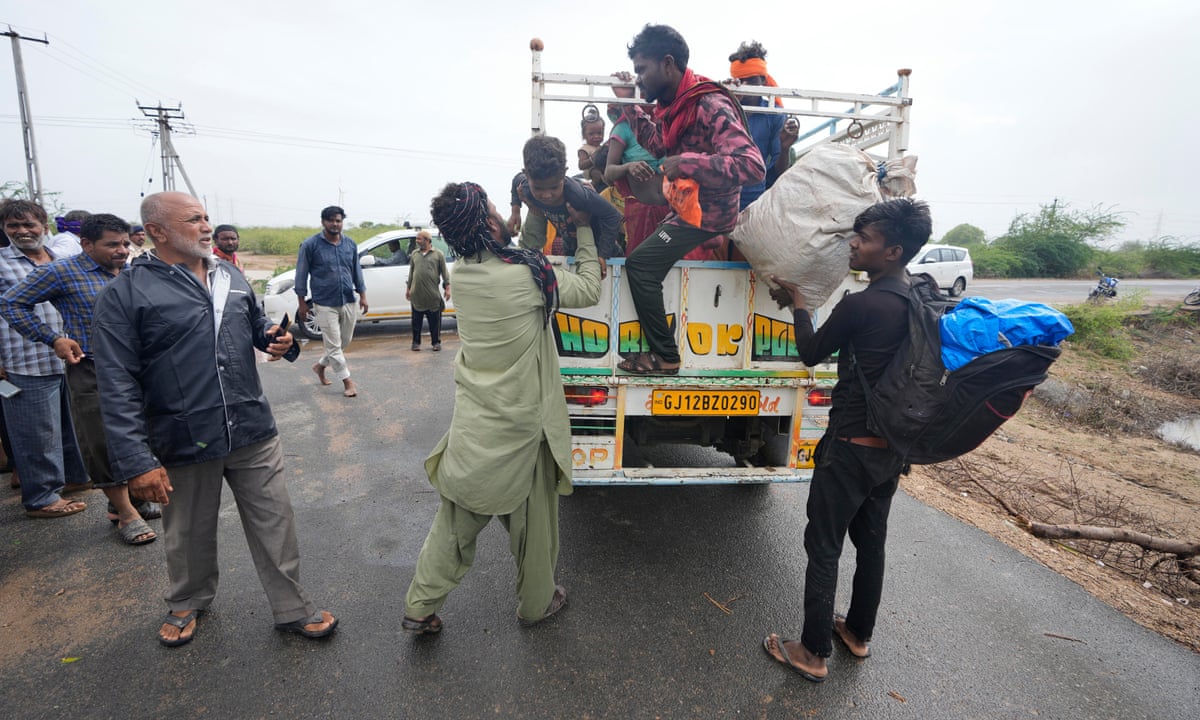 The impending arrival of Cyclone Biparjoy has raised concerns for the safety and well-being of coastal areas. Authorities are working diligently to mitigate potential damage and ensure the evacuation and safety of residents. It is crucial for residents in these areas to stay updated with the latest advisories and follow the instructions provided by local authorities to minimize the impact of the cyclone and safeguard lives and property.