"There is always one or the other person sacrificing his sleep at the border so that we can sleep peacefully." Ever since ancient times, the Indian Army has shown the act of bravery in front of the entire world by fighting the fair fight in every war that came its way. Their lives are full of challenges. They execute their duties in a very disciplined, courageous and a selfless manner. They live in a pluralistic, secular environment where their religion is their nation, and they have to fight as a single organised unit.
One of the finest examples in the army is Colonel Saurabh Singh Shekhawat – A Member of 21st Battalion of Parachute Regiment. He hails from Jhunjhunu, Rajasthan, India. His father's name is JS Shekhawat; his mother's name is Shreddha. He has commanded 21st Parachute Special Forces Batallion. He is one of the most decorated officers in the army.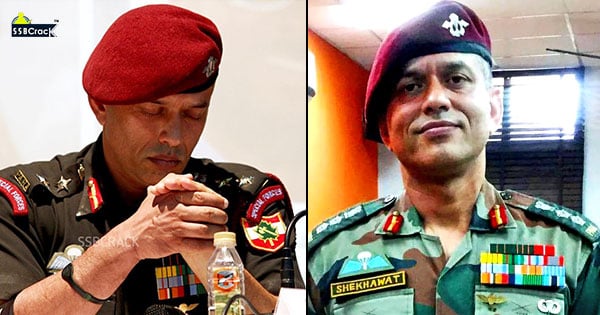 Colonel Saurabh Singh Shekhawat has been awarded:
Kirti Chakra ( The Kirti Chakra is an Indian military decoration awarded for heroism, bravery or self-less actions, away from the field. It comes second in the protocol list of peacetime gallantry awards; it comes after Ashoka Chakra and before Shaurya Chakra.
Shaurya Chakra (The Shaurya Chakra is also an Indian military decoration awarded for audacity, courageousness or generosity while not in the field. It comes third in the protocol list of peacetime gallantry awards and comes after the Ashoka Chakra and the Kirti Chakra. It precedes the Sena Medal)
Sena Medal (The Sena Medal is awarded to members of the Indian army  "for such individual acts of exceptional devotion to duty or courage as having special significance for the Army. "It can be awarded for valiant efforts, or it can also be for distinguished services carried out by any soldier off-field )
Vishisht Seva Medal ( The Vishisht Seva Medal (VSM) is a distinguished decoration of the Indian armed forces. It is awarded to recognise "distinguished service of a high order" to all ranks of the Indian Armed forces)
Samanya Seva Medal (It is a military service medal of the Indian Armed Forces. Samanya Seva Medal is awarded for active services like recognised anti-terrorist operations and other acts of courage)
For being a part of the UN Peace Keeping Force as well as the 1999 Indo-Pak Kargil War, he has been an awardee of 10 distinguished medals:
Operation Vijay Star Medal

Special Service Medal

Siachen Glacier Medal

Operation Vijay Medal

Operation Parakram Medal

Sainya Seva Medal

Videsh Seva Medal

50th Anniversary of Independence Medal

20 Years Long Service Medal

9 Years Long Service Medal
Besides being a courageous army man, he is also an expert mountaineer. He has conquered Mount Everest 3 times ( 2001, 2003 and 2005 respectively). He has also conquered Mount Kilimanjaro that is the highest peak in Africa, and Mount Blanc that is the highest peak in the Alps and Western Europe. In 2009, he led a joint team of India and Kazakhstan to scale Marble Wall Peak in Kazakhstan. He has climbed 14 peaks in his lifetime in total.
We should be incredibly proud to have such eminent army men who work day and night for their motherland. They are the real heroes.
"You have never lived until
You have almost died,
And for those who choose to fight,
Life has a special flavor,
The protected will never know"
-CAPT. R SUBRAMANIUM