In a recent public speech to members of the Indian diaspora, Congress leader Rahul Gandhi took aim at the Bharatiya Janata Party (BJP) and Rashtriya Swayamsevak Sangh (RSS), launching a scathing attack on the organizations. Responding to Gandhi's comments made during his visit to the United States, Vice President Jagdeep Dhankhar delivered a sharp retort, suggesting that looking in the rearview mirror reveals those who seek to smear, undermine, and dismantle the country's institutions. Dhankhar implied that individuals with ill intentions towards the nation become apparent when observed through the rearview mirror metaphorically.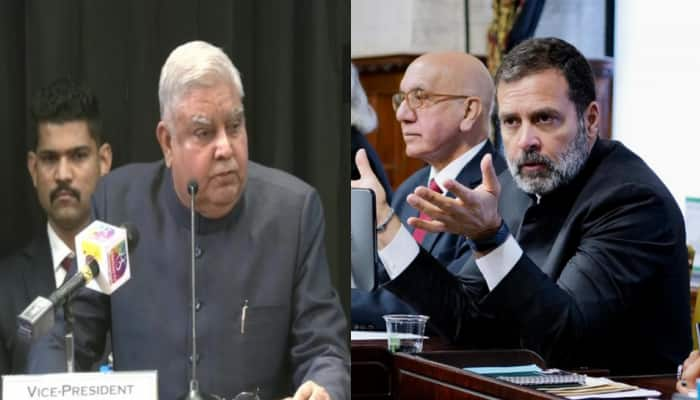 Dhankhar Hits Back at Rahul Gandhi's Rearview Mirror Remark, Exposing Hidden Agendas
"You look in the rearview mirror only to avoid someone who is determined to create an accident," the vice president remarked, alluding to the need to remain vigilant against those who pose a threat to the nation's well-being.
Dhankhar's response followed Rahul Gandhi's recent address to the Indian diaspora in the US, where he criticized the BJP and RSS for their alleged failure to look ahead and accused Prime Minister Narendra Modi of driving the country by solely relying on past experiences. Gandhi warned that this approach would inevitably result in repeated accidents.
"This is the phenomenon of Narendra Modiji. He looks only in the rearview mirror and then doesn't understand why the car is crashing," Gandhi expressed at a public gathering attended by a crowd of 3,000 at New York's Javits Centre.
During an interaction with a group of Indian Defence Estates Service officers at his official residence in New Delhi, Dhankhar made ambitious claims, stating that India would become the leading nation by 2047. He criticized those who fail to appreciate the country's potential and current accomplishments, describing them as misguided souls who lack pride in their homeland. However, he did not provide specific details about the criteria for India's attainment of the "number one nation" status.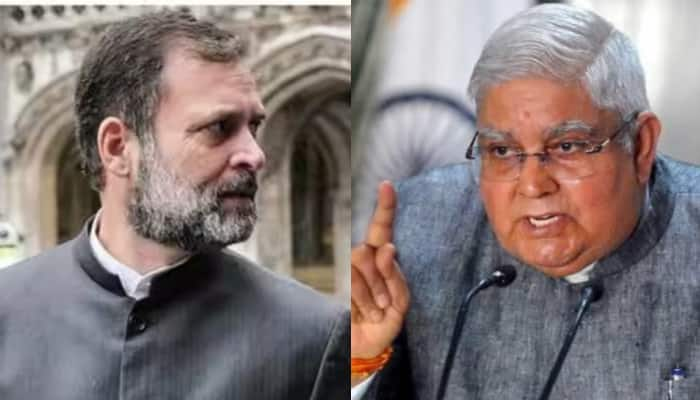 Furthermore, Dhankhar asserted that certain individuals within and outside the country were attempting to manipulate and control India's trajectory.
"We cannot allow others to calibrate us. Their calibration is not objective… The rise of India is indigestible in some quarters because this country believes in peace and stability, the harmony of the world," he emphasized.
The vice president urged the officers not to be burdened by the weight of history, as it could hinder their progress and growth.
While responding to Rahul Gandhi's criticism, Dhankhar's remarks shed light on the underlying agendas of those who seek to undermine the nation's institutions and progress. He called for vigilance and resilience to protect India's stability and development, emphasizing the country's commitment to peace and global harmony.
The exchange between Rahul Gandhi and Jagdeep Dhankhar highlights the ongoing political discourse in India, with opposing parties and leaders presenting differing visions for the country's future. As the political landscape evolves, it remains crucial for leaders to engage in constructive dialogue and prioritize the nation's interests, ensuring a prosperous and united India for all its citizens.
Dhankhar Slams Rahul Gandhi's Controversial Rearview Mirror Remark, Unveiling Hidden Motives with Fierce Rebuke
As the political discourse in India continues to unfold, the exchange between Rahul Gandhi and Jagdeep Dhankhar serves as a reminder of the importance of constructive dialogue and the need to prioritize the nation's interests above all else. While differing visions and opinions are expected in a democratic society, it is crucial for leaders to engage in respectful discussions that focus on the betterment of the country.
The remarks made by Rahul Gandhi during his visit to the United States reflect his concerns about the BJP and RSS and their approach to governance. He criticized their alleged inability to look forward and accused Prime Minister Narendra Modi of relying solely on past experiences, likening it to driving a car by constantly looking in the rearview mirror. Gandhi's intention behind these remarks was to highlight what he perceives as a lack of vision and a failure to address the challenges of the future effectively.
In response, Vice President Jagdeep Dhankhar employed a metaphorical interpretation of the rearview mirror concept, suggesting that it reveals individuals who harbor ill intentions towards the country's institutions and overall progress. By encouraging citizens to be vigilant and aware of those who seek to undermine and tarnish the nation, Dhankhar aimed to foster a sense of unity and resilience in safeguarding India's stability and growth.
During his interaction with Indian Defence Estates Service officers, Dhankhar expressed optimism about India's future, envisioning it as the leading nation by 2047. He emphasized the need to take pride in the country's achievements and potential, urging individuals not to be burdened by the weight of history but to embrace progress and strive for excellence.
Additionally, Dhankhar highlighted the existence of external forces attempting to influence and manipulate India's trajectory. He cautioned against allowing others to control the country's direction and emphasized the importance of preserving India's commitment to peace, stability, and global harmony. By recognizing and addressing these external influences, Dhankhar sought to reinforce the nation's sovereignty and ensure that decisions are made in the best interests of the Indian people.